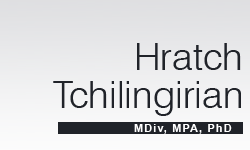 Search
New hope for Turkey-Armenia to heal old wounds

Two historical adversaries edge towards rapprochement with an eye on opening trade routes to Central Asia and beyond

"...Now though, "We've come 180 degrees," Hratch Tchilingirian, from the Faculty of Oriental Studies at Oxford University, told Asia Times, "and there's a completely different context."

... itself constantly surrounded. Armenia grabbed headlines in 2018 after Nikol Pashinian, head of the Civil Contract party, made a

peace

ful march on parliament and successfully removed Prime Minister Serzh ...
... "Political opportunism is the greatest betrayal to

peace

and justice." The US ambassador to Ankara was duly summoned for an official complaint, while Turkish opposition parties also joined in to denounce ...

Christianity in Karabakh: Azerbaijani Efforts At Rewriting History Are Not New

Dr. Hratch Tchilingirian, Oxford

EVN Report / MassisPost / Aravot (22 November 2020)—Long before the start of the armed conflict in Karabakh, the "authentication" of the history of the region had become the scholarly battleground of historians, political scientists, archaeologists, researchers and bureaucrats. The consequences of Soviet scholarship—particularly in the process of constructing histories—have been disastrous and continue to have a negative impact on how conflicting parties view "the other." It should be noted that, even today,

... for every activity… a time to be born and a time to die, a time for war and a time for

peace

." Today, as we honour the heroes of the war, as we mourn the loss of the fallen points of light, we must start ...
... Structures, Old Foundations. State Capacities for

Peace

", Accord. An International Review of

Peace

Initiatives. Issue 17. Hratch Tchilingirian (1999) "Nagorno Karabagh: transition and the elite", Central ...

The Corona-paradox

Hratch Tchilingirian | 20 March 2020

Societies around the world are facing what I would call the Corona-paradox: until only a few weeks ago, the internet and social media were viewed as "unhealthy" addictions that lead people to social isolation, but now we are welcoming "social distancing" as a critical form of security and protection of health.

NB Hebdo, N° 143 – 14 mars 2019: 5-6.

In memoriam : le patriarche Mesrob Moutafian (1956-2019)

Par Hratch Tchilingirian

Le patriarche Mesrob Moutafi an était l'un des hommes d'église les plus courageux, les plus intègres et les plus inspirés de l'histoire contemporaine de l'Église arménienne. Sa jeunesse, son charisme, son





A decade-long goodbye for a journey cut short

In Memoriam: Patriarch Mesrob Mutafyan (1956-2019)

Hratch Tchilingirian | CivilNet.am 10 March 2019

Patriarch Mesrob Mutafyan was one of the most courageous, principled and forward looking church leaders in the contemporary history of the Armenian Church. His youth, charisma, strong pastoral and

... worship in

peace

despite ongoing conflicts. "In the coming months and years, the situation of the Armenians in Jerusalem and the Patriarchate in particular might become even more critical, especially ...
... and Ethno-Religious Mobilisation in the Middle East, convened by Dr Alex Henley, Dr Ceren Lord, Dr Hiroko Miyokawaunder, under the auspices of Pembroke College, the Sasakawa

Peace

Foundation, the ...

Hratch Tchilingirian, The Struggle for Independence in the post-Soviet South Caucasus: Karabakh and Abkhazia. London: Sandringham House, 2003. ISBN 9781366927606.

[Hardcover from Amazon]

NH Hebdo (Paris), N° 66 - 21 septembre 2017, pp. 7-8

Les Arméniens peuvent-ils subsister en tant que nation globale, alors que leur patrie est mal en point ?*

Par Hratch Tchilingirian

Ces dernières années, un nouveau discours sur les « Arméniens globaux » a fait son apparition, avec l'intention de construire une identité arménienne post-génocide dans la diaspora et en Arménie. Cette nouvelle identité se veut être un vecteur permettant de passer de la « mentalité de survie » à la célébration de la vie et du succès. Dans une lettre

... goals of this prescriptive "global Armenianism" is "to transform the post-Soviet Armenian Republic into a vibrant, modern, secure,

peace

ful and progressive homeland for a global nation." This is, ...

Massis Weekly, 10 July 2017

GLENDALE – University of Oxford scholar, Dr. Hratch Tchilingirian will be in town to present a special illustrated talk titled, Precarious Citizens: Christian Communities in Turkey Today on Tuesday , July 18, 2017 at 7:30pm at Abril Bookstore – 415 E. Broadway, Glendale, CA. Scholar will be introduced by Mark Chenian. Admission is free.


Patriarchal Election Déjà Vu in Turkey. Government Meddling in the Election is Inevitable, but Not Decisive

By Dr. Hratch Tchilingirian

The election process of a new Armenian Patriarch in Turkey faces the customary state-imposed restrictions, administrative hurdles and arbitrary treatment of the Armenian community. In recent weeks, the situation has been exacerbated by personality clashes and ambitions of the high ranking clergymen at the Patriarchate, who have turned a problem into a divisive major crisis.

Lecture: "The 'Other' Citizens – Armenians in Turkey between Isolation and (dis)Integration", American University of Armenia (AUA), Political Science & International Affairs (PSIA).

LSESU European Society, 3 March 2017

On Thursday February 23rd, the Youth Association for a Greater Europe and the LSESU European Society invited students and public for a panel discussion on 'European Identity in the Times of Post-Truth Politics' at the LSE. Our speakers – Roger Casale, founder of New Europeans and former MP for Wimbledon, and Dr Hratch Tchilingirian, member of the Faculty of Oriental Studies

CivilNet, 10 March 2017 10:19

Oxford University scholar Hratch Tchilingirian has published an article entitled "The 'Other' Citizens: Armenians in Turkey Between Isolation and (Dis)integration."

Since the establishment of the Turkish Republic, state discrimination against the Armenian community—and generally the non-Muslim minorities—has been institutionalized and systematically

Hratch Tchilingirian (2016) "The 'Other' Citizens: Armenians in Turkey Between Isolation and (Dis)integration", Journal of the Society for Armenian Studies, Vol. 25, 2016: 123-155.


Since the establishment of the Turkish Republic, state discrimination against the Armenian community—and generally the non-Muslim minorities—has been institutionalized and systematically used towards the detriment of the target community. This article provides a discussion of these issues and the processes of state and societal 'othering' of the Armenians in Turkey, with a particular focus on the impact of such policies and public discourses on the current situation of the community. It then provides an analysis of the internal dynamics of the Armenian community itself. The discussion highlights several sociological concepts that are useful to the understanding and analysis of the Turkish state's and society's treatment of the Armenians in Turkey today—or what the economists would call the stresses and distortions in the system.