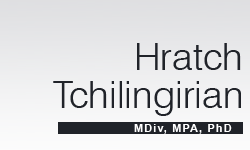 Search
Արցախահայութեան օժանդակութիւնը կրկին օրակարգի վրայ կը դնէ «Սփիւռքի կառոյցներու» խնդիրը

Darperag21.net, Նոյեմբեր 30, 2023

Արցախի աղէտը, ինչպէս Եղեռնի աղէտը, տասնամեակներ շարունակ սփիւռքահայութեան վրայ իր ազդեցութիւնը պիտի ունենայ: 44-օրեայ պատերազմէն ետք, Սփիւռքը «հոգեկան կաթուած»ի մատնուեցաւ, ու այդ ողբերգութեան ծանրութեան տակ` վրայ հասաւ արցախահայութեան էթնիք զտումը եւ Արցախի հայաթափումը: Բայց այսօր


... however, with relations then freezing until 2003, when the newly elected Justice and Development Party government in Ankara attempted to thaw relations. Then-Turkish

foreign

minister Abdullah Gul met ...
... Or did they? Are Armenians a Crisis Nation – mobilizing urgently but not altering fundamentally? Artsakh

Foreign

Minister David Babayan joins Dr. Laurie Brand, Dr. Vicken Cheterian, Dr. Shushan Karapetian ...
... (Georgetown University), May 2021, pp. 8-10. The instrumentalization of religion—especially Islam by Azerbaijan in

foreign

relations—in the nonreligious Nagorno Karabakh conflict could further deepen ...
...  Yet Biden's acknowledgment also plunged US-Turkish relations to a new low. "We entirely reject this statement," Turkish

Foreign

Minister Mevlut Cavusoglu said, following Biden's announcement, adding: ...

Christianity in Karabakh: Azerbaijani Efforts At Rewriting History Are Not New

Dr. Hratch Tchilingirian, Oxford

EVN Report / MassisPost / Aravot (22 November 2020)—Long before the start of the armed conflict in Karabakh, the "authentication" of the history of the region had become the scholarly battleground of historians, political scientists, archaeologists, researchers and bureaucrats. The consequences of Soviet scholarship—particularly in the process of constructing histories—have been disastrous and continue to have a negative impact on how conflicting parties view "the other." It should be noted that, even today,

We have outlived empires and can build our nation's tomorrow

CivilNet / HyeTert / Massis Post 11 November 2020

Hratch Tchilingirian, Oxford

As one of the nations in this world, whose millennia-long biography is the envy of the world, we should not allow some anomalous, self-interested forces, circles or personalities trample the national wisdom we have gained through myriads of imposed wars, destruction and displacement.

Hratch Tchilingirian (2020) "Christians in Modern Turkey. Native Foreigners" in Handbook of Christianity in the Middle East (eds. Mitri Raheb and Mark A. Lamport). Rowman & Littlefield Publishers.

France Arménie, No. 478, Octobre 2020, pp. 35-37.

ADS prend le pouls de la Diaspora

Depuis deux ans, une équipe de chercheurs arméniens parcourt des communautés de la Diaspora pour y réaliser des enquêtes approfondies d'opinion publique. Cet automne, une équipe de chercheurs s'intéressera à la communauté francilienne. C'est pour mieux comprendre les motivations de cette initiative que nous avons interrogé le responsable du projet, Hratch Tchilingirian, sociologue, professeur à la chaire d'arménologie de l'Université d'Oxford.

... he championed the cause of the Melkonian School in Cyprus, or when he spoke, for domestic reasons in Turkey, against the recognition of the Genocide by

foreign

parliaments. One Armenian party newspaper ...
... point, the Armenians of Jerusalem prevailed, successfully preserving a continuous and unshakeable presence in the Holy Land. For example, when other religious leaders fled

foreign

conquest during ...

Peroomian, Tchilingirian to Speak at ARF's First Republic Conference

Glendale (Asbarez, March 7, 2018)—To mark and celebrate the 100th anniversary of the founding of the first Republic of Armenia, the Armenian Revolutionary Federation-Western United States, in collaboration with the California State University, Northridge Armenian Studies Program, has organized a two-day academic conference, "Armenian Statehood Reborn: Achievements and Reflections."… Two of the acclaimed speakers at the conference will be Dr. Hratch Tchilingirian and Dr. Rubina Peroomian...

Could Armenians remain a global nation with a broken homeland?

EVN Report, September 16, 2017

In recent years a new discourse on "global Armenians" is increasingly becoming part of an effort of constructing a post-Genocide Armenian identity in the Diaspora — and Armenia. These new identity shapers seem to advocate a transition from "survival mentality" to celebration of life and success. One definition was provided in a full-page letter

Massis Weekly, 10 July 2017

GLENDALE – University of Oxford scholar, Dr. Hratch Tchilingirian will be in town to present a special illustrated talk titled, Precarious Citizens: Christian Communities in Turkey Today on Tuesday , July 18, 2017 at 7:30pm at Abril Bookstore – 415 E. Broadway, Glendale, CA. Scholar will be introduced by Mark Chenian. Admission is free.


... about the region by outsiders. ::/introtext:: ::fulltext::Constructing Reality: scholarship and

policy

on post-independence Caucasus Hratch Tchilingirian | 12 November 2013 'When

foreign

ers visit ...

Security Issues in Eurasia

Hratch Tchilingirian | 26 September 2004

The end of the Soviet Union triggered major political, ideological, territorial, military, economic, social and cultural transitions in a vast geographic area, which has come to be known as Eurasia. This resource rich and increasingly significant region extends from eastern China to the borders of Europe and the Middle East.

... Armenia's

Foreign

Minister and an Armenian diplomat in Lebanon discuss issues pertaining to church and state. Also diplomatic relations between Armenia and the Vatican are discussed, with the complete ...