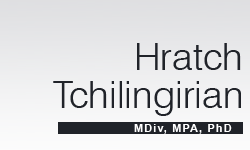 Search
... in the wider context of the modern Azerbaijani-Armenian

conflict

and disputed territories. It then focuses on how the Azerbaijani state is constructing an "Albanian Apostolic Church" – variously called ...
... et des

conflict

s inter-ethniques du Proche Orient. Auteur de nombreuses études et publications, il lance des appels, principalement aux cercles académiques, sur la situation critique des chrétiens d'Orient. ...
... Caucasian neighbors have long been at odds over a range of issues, from the World War I-era genocide of Ottoman Armenians to the contemporary

conflict

over Nagorno-Karabakh. Now, though, there is hope ...
... one in the sense that what started as a

conflict

between self-determination of the Karabakh Armenians and the territorial integrity of Azerbaijan…30 years later, this

conflict

has not been resolved, even ...

Hratch Tchilingirian (2021) "Nagorno-Karabakh: War Fails to Resolve the Conflict", The Cambridge Journal of Law, Politics, and Art (CJLPA), Issue 1, Summer 2021: 398-400.

Imagine Boris Johnson ordering the bombing of Edinburgh because the Scots voted for independence in a referendum, or the British Government declaring war against Northern Ireland because it wished to join the Republic of Ireland. Unlike the political dialogue and the search for legal remedies that dissatisfied nations of the United Kingdom utilise to resolve their conflicts, the Armenians of Nagorno-Karabakh, who have been natives of the territory for centuries, have been the target of years of demonisation in Azerbaijan for voting for independence in 1991 as the Soviet Union was collapsing.

[download]

"Religion in a Non-Religious War: The Conflict over Nagorno Karabakh"

Hratch Tchilingirian, University of Oxford

Strategic Note on Religion & Diplomacy (Georgetown University), May 2021, pp. 8-10.

The instrumentalization of religion—especially Islam by Azerbaijan in foreign relations—in the nonreligious Nagorno Karabakh conflict could further deepen the differences among the parties in the conflict and in the region, and make a final resolution and reconciliation even more difficult.

... mission, value and legitimacy of the Armenian Evangelical Church is indisputable, even as there had been periodic

conflict

s with the Armenian Apostolic Church in the past and after Armenia's independence. ...
... Arif Mansurov, Black Spaces of History and Perestroika. Baku: 'Sharg-Garb' Publishers, 1991. [2] Tadeusz Swietochowski, 'Azerbaijan: Between Ethnic

Conflict

and Irredentism'. Armenian ...
... / Aravot (22 November 2020)—Long before the start of the armed

conflict

in Karabakh, the "authentication" of the history of the region had become the scholarly battleground of historians, political scientists, ...
... Jasmine Dum-Tragut. Berlin, Boston: De Gruyter, 2023: 581-609, https://doi.org/10.1515/9783110794687-019. Hratch Tchilingirian (2021) "Nagorno-Karabakh: War Fails to Resolve the

Conflict

", The Cambridge ...
... 'Home' is loaded with happy- or sad- memories, complex colonial but also

conflict

dynamics. A special show, as Nelly is preparing to leave for Armenia in two weeks to start recording her new movie in the ...
... sociology of religion, and inter-ethnic

conflict

s in the Middle East and Eurasia. The author of numerous studies and publications (www.hratch.info), he has lectured internationally, recently drawing attention ...
... at least 22,000 Syrian-Armenian refugees who have travelled to the country since Syria's

conflict

erupted in 2011. The Hovhannesian family's journey, or return, has been in the making for over a century, ...
... specializing in Middle Eastern and Armenian Studies, with a particular focus on cultural identity politics, homeland-diaspora relations, sociology of religion, and inter-ethnic

conflict

s in the Middle ...
... to assess the extent of these challenges for the global Armenian identity, one is reminded of similar crisis points over two millennia of

conflict

and conquest, persecution and hardship. At virtually each ...

Paper: "Islamic Response to the Karabakh Conflict" at the 25th anniversary conference of "Le Caucase entre les Empires, XVIe-XXIe siècle", Journée d'étude en hommage à Claire Mouradian. Organisée par le CERCEC (CNRS/EHESS), École des Hautes Études en Sciences Sociales, Paris, 29 novembre 2018.

... South Caucasus: Karabakh and Abkhazia. London: Sandringham House, 2003. ISBN 9781366927606. [download] The Struggle for Independence presents a discussion of inter-ethnic

conflict

s in post-Soviet ...

ԿԱՐԵՒՈՐ ՄՏԱՀՈԳՈՒԹԻՒՆՆԵՐ

Սփիւռքահայ գիտնականը կը մեկնաբանէ Մերձաւոր Արեւելքի քիրստոնէութեան առջեւ ծառացած երկու հիմնական խնդիրները՝ անվտանգութիւն եւ գաղթականութիւն...

(աւելին)

... focus on cultural identity politics, homeland-disaspora relations, sociology of religion, and inter-ethnic

conflict

s in the Middle East and Eurasia. Dr Tchilingirian has lectured internationally and is ...