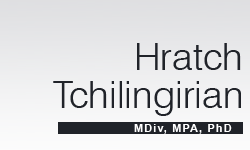 Search
Suzan Meryem Rosita, "Istanbul Remembered: An Armenian Childhood." Journal of the Ottoman and Turkish Studies Association, vol. 8 no. 1, 2021, p. 155-166.

Sometimes an essay begins with a conversation. With two women talking. Liji Pulcu Çizmeciyan was the upstairs neighbour of my auntie on Büyükada. "I am ninety years old," she told me looking down from her balcony. She sounded stern but the twinkle in her eye betrayed her. "If you want to talk about my book, hurry and come upstairs for tea and kurabiye. ....

pdf

... recent years, Turkey has acknowledged that this horror did occur. Indeed, Turkish President Recep Tayyip Erdogan said in his own April 24 message, addressed to the Armenian patriarch of

Istanbul

, ...
... "The

Istanbul

Summit: Fifty-Four Nations Discuss Regional Security and Conflicts", Armenian International Magazine, December. Hratch Tchilingirian (1999) "Back In Karabakh. Diocese of Artsakh Celebrates ...


Hratch Tchingirian, Ermeni Kilisesi. Kısa bir giriş. (Ingilizceden Çeviren: Lora Sarı). Istanbul: Aras, 2019.

... parlamentoların Soykırım'ı tanımasına karşı konuşmalar yaptığında; İstanbul'dan Eçmiyadzin'e, Diaspora'daki çeşitli çevrelere kadar, birçok yerden gelen sert eleştirilere maruz kaldı. Bir Ermeni partisinin ...
... Saint-Sauveur d'

Istanbul

annonça officiellement que le patriarche était atteint de la maladie d'Alzheimer. Huit ans plus tard, en octobre 2016, le Conseil du clergé du patriarcat le démit officiellement ...
... death threats, his health gradually deteriorated for mysterious reasons. In the summer of 2008, the Holy Saviour Armenian Hospital in

Istanbul

(Ս. Փրկիչ Ազգային Հիվանդանոց) officially announced that the ...
... about Deaconess Ani-Kristi Manvelian's ordination is that she is a "parish" deacon -- that is, she is not a member of a convent or a religious order, like the Kalfayan Sisters in

Istanbul

or Gayanyants ...
... is special and novel about Deaconess Ani-Kristi Manvelian's ordination is that she is a "parish" deacon -- that is, she is not a member of a convent or a religious order, like the Kalfayan Sisters in

Istanbul

 ...
... Vakfi,

Istanbul

. ::/introtext:: ::fulltext:: Kevork Malikyan'ın 50. sanat yılı etkinlikleri: ATÖLYE. Çocuklar için Yaratıcı Drama Atölyesi. Sosyolog Hratch Tchilingirian'ın, çocuklara, yakın dostu ...

Conference on "Armenian Identity in the 21st Century", Hrant Dink Foundation, Istanbul


«Հրանդ Տինք Հիմնարկ»ի ու «Համազգային»ի Գործակցութեամբ Գիտաժողով

ՍԵՒԱՆ ՏԷՅԻՐՄԵՆՃԵԱՆ

Հոկտեմբեր 7-8 թուականներուն կայացաւ «Հայկական ինքնութեան քննական մօտերցումներ 21-րդ դարուն՝ խոցելիութիւն, առաձգականութիւն եւ փոխակերպութիւն» խորագրեալ գիտաժողովը... Հրաչ Չիլինկիրեան (Օքսֆորտ համալսարանի դասախօս)- «Պէտք է ըսել, որ բացառիկ յաջողութեամբ անցաւ այս երկու օրը։ Ինծի համար յատկապէս իւրայատուկ երեւոյթ մըն է, որ «Հրանդ Տինք Հիմնարկ»ն ու Համազգայինը այս նախաձեռնութիւնը կազմակերպած էին։ Հայ ինքնութեան մասին Պոլսոյ մէջ հաւաքուիլ ու խօսիլ՝ կարծես առաւել


... Ateşyan, İstanbul Valiliğinden seçimin "yasal olarak mümkün" olmadığını bildiren ve Ateşyan'ın hükümet tarafından resmen Patrik Vekili olarak tanınmaya devam edeceğini belirten bir mektupla çıkageldi. ...
... election. However, within minutes of the election of the Locum Tenens, Ateshian produced a letter from the

Istanbul

Governor's Office which declared that the election was "not legally possible" and Ateshian ...
... Resilience, and Transformation," organised by the Hrant Dink Foundation and Hamazkayin Armenian Educational and Cultural Society. 7-8 October 2016, Hrant Dink Foundation,

Istanbul

. Conference programme ...
... rather curious 1901 advertisement for "cigarette paper" produced by the Surp Pirgic [Holy Saviour] Armenian hospital in

Istanbul

(Constantinople) to augment the income of the hospital.* Today, it would ...
... attention such details as have reached the Embassy from several sources concerning the recent deportations of Armenians from the interior of Anatolia to

Istanbul

." [See full text in "read more" and image ...
... he was arrested in October 1980 at

Istanbul

airport while en route to Jerusalem. He was only 33 years old at the time. Fr. Manuel was charged with anti-Turkish activities in the years when various acts ...

Hrant Dink, "Why have I been targeted?"

Agos, 12 January 2007

[see PDF version]




The Society for Armenian Studies (SAS) held its annual meeting in the Palais des Congrès in Montreal, Canada, in conjunction with the Middle East Studies Association's(MESA) Conference (November 17-21, 2007).

The highlight at the Montreal conference was a panel sponsored jointly by the SAS and the Turkish Studies Association dedicated to the memory of slain Armenian journalist Hrant Dink.

The session titled "On Hrant Dink and Turkish-Armenian Relations" was organized by the presidents of the two associations, Professors Richard Hovannisian of UCLA andAndras Riedlmayer of Harvard. The panel attracted an overflow audience of more than 200 academics, including specialists in Turkish and Armenian studies as well as colleagues from other fields.

After remarks by both organizers, Dr. Hratch Tchilingirian of Cambridge University spoke on "Hrant Dink before Hrant Dink: Armenians in Turkey." He was followed by Dr. Fatma Müge Göçek of the University of Michigan, Ann Arbor, who discussed "Hrant Dink and Turkish-Armenian Dialogue." The third panelist was Professor Levon Zekiyanof Ca' Foscari University in Venice, who assessed "Hrant Dink's Innovative Approach to Armenian-Turkish Relations. Its Context, Challenge and Prospects."

The final presentation was by journalist Etyen Mahçupyan, who now edits Hrant Dink's newspaper Agos, with his reflections on "Agos and the Hrant Dink Foundation: Looking at the Future."

The panel was filled with deep emotion and was received enthusiastically by the large, mixed audience.

... Meselesi Hallolunmustur': Osmanli Belgelerine Göre Savas Yillarinda Ermenilere Yönelik Politikalar (

Istanbul

, 2008). ::/introtext:: ::fulltext::School of African and Oriental Studies, University of ...