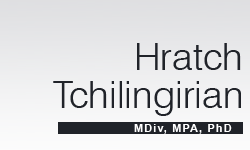 Search
Tchilingirian, Hratch. Sociologue. Après des études á New York puis en Californie, Hratch Tchilingirian défend avec succès au London School of Economics and Political Science son doctorat de sciences sociologiques (2003). Professeur á la faculté des études orientales...

New hope for Turkey-Armenia to heal old wounds

Two historical adversaries edge towards rapprochement with an eye on opening trade routes to Central Asia and beyond

"...Now though, "We've come 180 degrees," Hratch Tchilingirian, from the Faculty of Oriental Studies at Oxford University, told Asia Times, "and there's a completely different context."

Why It Matters: Armenia defiant against Turkey, Azerbaijan despite shrinking borders

By Peter Aitken | Fox News November 15, 2021

... "I think we're back to square one in the sense that what started as a conflict between self-determination of the Karabakh Armenians and the territorial integrity of Azerbaijan…30 years later, this conflict has not been resolved, even despite the war, even despite Azerbaijan saying there is no longer Karabakh conflict," Hratch Tchilingirian, a scholar and activist, told Fox News...

Lecture: "Christians in Karabakh. The rich religious heritage in Artsakh from 4th to 21st century"

Diocese of the Armenian Church in the United Kingdom and Ireland, 12 May 2021.

(video)

Lecture: "Christians in Karabakh. The rich religious heritage in Artsakh from 4th to 21st century"

Diocese of the Armenian Church in the United Kingdom and Ireland, 12 May 2021.

(video)


...  Ծանօթագրութիւններ [1] "The Future for Global Armenians is Now", իբրեւ ծանուցում հրատարակուած The

New

York Times-ի մէջ, https://auroraprize.com/en/

new

s/detail/10454/future-for-global-armenians-is-now ...

"Religion in a Non-Religious War: The Conflict over Nagorno Karabakh"

Hratch Tchilingirian, University of Oxford

Strategic Note on Religion & Diplomacy (Georgetown University), May 2021, pp. 8-10.

The instrumentalization of religion—especially Islam by Azerbaijan in foreign relations—in the nonreligious Nagorno Karabakh conflict could further deepen the differences among the parties in the conflict and in the region, and make a final resolution and reconciliation even more difficult.

"Fidelity to the Mission of Renewal"

By Hratch Tchilingirian, Ph.D

AMAA NEWS, April-May-June 2021 | One of the most impressive characteristics of the Armenian Evangelical Church is the fact that, despite being small in numbers among Armenians worldwide, this 175-year-old church is one of the most active, visible and organized institutions in the Armenian world. Today, the mission, value and legitimacy of the Armenian Evangelical Church is indisputable, even as there had been periodic conflicts with the Armenian Apostolic Church in the past and after Armenia's independence.

Biden drops a genocide bomb on Erdogan

Biden's curiously timed statement on WWI atrocity against Ottoman Armenians drives US-Turkey relations to a new low

. . ."there was no additional strategic risk for the US in doing this," Hratch Tchilingirian, from Oxford University's Faculty of Oriental Studies, told Asia Times...

Lecture: Christians in the Middle East (with a focus on Lebanon), course on "Ethnic and Religious Minorities in MENA."

States and Societies Faculty, Diplomatic Academy, FCO, 16 February 2021 and 9 March 2021.

... Review 43, 4, 1990: 45; Touraj Atabaki, Azerbaijan: Ethnicity and Autonomy in Twentieth-century Iran. London &

New

York: British Academy Press, 1993: 25. Shireen T. Hunter, 'Azerbaijan: ...

Christianity in Karabakh: Azerbaijani Efforts At Rewriting History Are Not New

Dr. Hratch Tchilingirian, Oxford

EVN Report / MassisPost / Aravot (22 November 2020)—Long before the start of the armed conflict in Karabakh, the "authentication" of the history of the region had become the scholarly battleground of historians, political scientists, archaeologists, researchers and bureaucrats. The consequences of Soviet scholarship—particularly in the process of constructing histories—have been disastrous and continue to have a negative impact on how conflicting parties view "the other." It should be noted that, even today,

... in Karabakh: Azerbaijani Efforts At Rewriting History Are Not

New

", EVN Report, 22 November. Hratch Tchilingirian (2020) "Karabağ'da Hristiyanlık: Azerbaycan'ın Tarihi Yeniden Yazma Çabaları Yeni Değil", ...
... tailored for content creators and independent thinkers and makers of

new

worlds. Every month, the Nelly Boum Show unravels a theme and explores it in a multiverse of possible

new

futures- we listen and ...

Lecture: "The 'Other' Citizens: Armenians in Turkey today", 4 November 2019, ANC NJ and Hovnanian School, at Hovnanian School, New Milford, NJ, USA.

Lecture: "Christianity in the Middle East today: challenges facing declining communities", 30 October 2019, Columbia University, Knox Hall 208, New York.

Հայաստանի Հանրային Ռադիո -- Հետազօտութիւն սփիւռքեան ժամանակակից կեանքի մասին. Հրաչ Չիլինկիրեան

Public Radio (Yerevan), News in Western Armenian, host Ani Zeytountsian, broadcast on 20 May 2019.

... to continuing our fruitful collaboration with the Armenian Institute and the team in London," he added. The Armenian Diaspora Survey will continue in 2019 with a

new

set of selected cities. The ...
... 

new

era in the life of the Armenian community in Turkey. Physically a towering figure, even as he resembled a biblical character, his thinking was fully in step with the times, creative and purposeful. ...