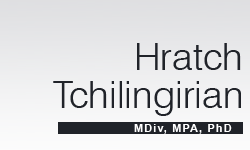 Search
Tchilingirian, Hratch. Sociologue. Après des études á New York puis en Californie, Hratch Tchilingirian défend avec succès au London School of Economics and Political Science son doctorat de sciences sociologiques (2003). Professeur á la faculté des études orientales...

... with Russian President Vladimir Putin, who personally intervened and guided the negotiations. The deal left Armenia vulnerable to the

political

ambitions of long time adversary (and U.S. ally) Turkey, ...
... join the Republic of Ireland. Unlike the

political

dialogue and the search for legal remedies that dissatisfied nations of the United Kingdom utilise to resolve their conflicts, the Armenians of Nagorno-Karabakh, ...

"Religion in a Non-Religious War: The Conflict over Nagorno Karabakh"

Hratch Tchilingirian, University of Oxford

Strategic Note on Religion & Diplomacy (Georgetown University), May 2021, pp. 8-10.

The instrumentalization of religion—especially Islam by Azerbaijan in foreign relations—in the nonreligious Nagorno Karabakh conflict could further deepen the differences among the parties in the conflict and in the region, and make a final resolution and reconciliation even more difficult.

... "

Political

opportunism is the greatest betrayal to peace and justice." The US ambassador to Ankara was duly summoned for an official complaint, while Turkish opposition

parties

also joined in to denounce ...
... Ferhad P. Abasov. Winthrop, Mass, 1997. I. Aliev, Mountainous Karabagh: History, Facts, and Events. Baku, 1989 (Rusça); F. Mamedova,

Political

History and Historical Geography of Caucasian Albania. ...
... / Aravot (22 November 2020)—Long before the start of the armed conflict in Karabakh, the "authentication" of the history of the region had become the scholarly battleground of historians,

political

scientists, ...
... Developments", Groong: Review & Outlook, August 14. Hratch Tchilingirian (1998) "Current Social, Economic and

Political

Situation in Nagorno Karabakh. Interview with Karen Ohanjanian", ANN/Groong, ...
... (Պատրիարքութիւն Հայոց Կոստանդնուպոլսոյ)—the reference to the ancient capital of Byzantium is a taboo and considered a

political

ly charged term. Indeed, a few months before his election, a Turkish television ...
... leans west

political

ly, after surviving war in Syria, was jarring. "Although I knew Armenian, I couldn't understand when people were saying to me. They were using so many Russian words and expressions ...
... recover from ongoing military and

political

conflict? A Hundreds of thousands of Christians have left the Middle East, including tens of thousands of Armenians, resulting in a critical brain drain. ...
... is also, however, a wealth of legal,

political

, archeological, financial, and art history expertise available to help the Patriarchate maximize the value of its real estate, museums and libraries. Among ...
... University of London, 23 May 2018. Speakers Dr Armine Ishkanian, Dr Hratch Tchilingirian and Dr Ara Sanjian discussed the internal

political

and social dynamics of recent events, the new era of relations ...
... conference is sponsored by Mr. and Mrs. Harry and Cheryl Nadjarian. The conference will critically examine new interpretations, paradigms, and narratives about the

political

, social, economic and cultural ...
... groups struggle for independence. This sociological study argues that when social and

political

restructuring is resisted or ignored by a dominant social group over a long period of time, alternative measures ...
... Instead, Armenia is visible through its oligarchs — a small number of people who have

political

, economic, social and even cultural and religious power that survives through unquestioned loyalty, public ...

Lecture: "The 'Other' Citizens – Armenians in Turkey between Isolation and (dis)Integration", American University of Armenia (AUA), Political Science & International Affairs (PSIA).

Panel speaker: "European Identity in the Times of Post-Truth Politics", held at the London School of Economics and Political Science, organised by LSESU European Society and The Youth Association for a Greater Europe.

23 February 2017, LSE


... cultural and

political

propaganda. This long-standing tradition could not be quickly fixed by processes of democratisation, leaving the seeds of post-truth agenda in fertile grounds in those countries ...