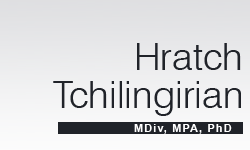 Search
Tchilingirian, Hratch. Sociologue. Après des études á New York puis en Californie, Hratch Tchilingirian défend avec succès au London School of Economics and Political Science son doctorat de sciences sociologiques (2003). Professeur á la faculté des études orientales...

Speaker: "'Homeland Diaspora, Motherland Armenia': perceptions and expectations in Diaspora-Armenia relations."

Conference on The Impact of Regional Transitions on Armenia: Challenges and Opportunities, organised by Friedrich-Ebert-Stiftung and Institute of Oriental Studies, National Academy of Sciences. Tsagkhadzor, 12 June 2022.

... that the victory of Turkish ally Azerbaijan over Armenia in the November 2020 short, hot war may open the road to

Turkish-Armenian

rapprochement. This, in turn, may also lead the way to an opening of ...

Network Nation, USC Institute of Armenian Studies, 14 May 2021

Covid and the Karabakh War impacted institutions in the Diaspora, and changed Homeland-Diaspora relations. Or did they? Are Armenians a Crisis Nation – mobilizing urgently but not altering fundamentally? Artsakh Foreign Minister David Babayan joins Dr. Laurie Brand, Dr. Vicken Cheterian, Dr. Shushan Karapetian and Dr. Hratch Tchilingirian to analyze short and long-term impact.

"Religion in a Non-Religious War: The Conflict over Nagorno Karabakh"

Hratch Tchilingirian, University of Oxford

Strategic Note on Religion & Diplomacy (Georgetown University), May 2021, pp. 8-10.

The instrumentalization of religion—especially Islam by Azerbaijan in foreign relations—in the nonreligious Nagorno Karabakh conflict could further deepen the differences among the parties in the conflict and in the region, and make a final resolution and reconciliation even more difficult.

Biden drops a genocide bomb on Erdogan

Biden's curiously timed statement on WWI atrocity against Ottoman Armenians drives US-Turkey relations to a new low

. . ."there was no additional strategic risk for the US in doing this," Hratch Tchilingirian, from Oxford University's Faculty of Oriental Studies, told Asia Times...

London School of Economics

LSE Forum for Russian, Eastern European and Eurasian Studies Schapiro Seminar

Lecture

"Restructuring Minority-Majority Relations in Soviet and Post-Soviet Abkhazia and Karabakh"

Dr. Hratch Tchilingirian, University of Cambridge

26 October 2004, 5:00 PM

D702, Clement House, LSE European Institute.

France Arménie, No. 478, Octobre 2020, pp. 35-37.

ADS prend le pouls de la Diaspora

Depuis deux ans, une équipe de chercheurs arméniens parcourt des communautés de la Diaspora pour y réaliser des enquêtes approfondies d'opinion publique. Cet automne, une équipe de chercheurs s'intéressera à la communauté francilienne. C'est pour mieux comprendre les motivations de cette initiative que nous avons interrogé le responsable du projet, Hratch Tchilingirian, sociologue, professeur à la chaire d'arménologie de l'Université d'Oxford.

"У нас украли веру": как Армянская апостольская церковь оказалась на грани раскола

. . . "Главным инструментом централизации стало введение унифицированных уставов для Армянской церкви по всему миру", - говорит в интервью Би-би-си профессор Института Востока Оксфордского университета Грач Чилингирян

["The main instrument of centralization of administrative authority has been through the imposition of a unified bylaws for the Armenian Church globally," said Hratch Tchilingirian] ....

... «Կենտրոնացման գլխավոր գործիքը դարձավ Հայկական եկեղեցու միասնական կանոնադրությունների ներմուծումը ամբողջ աշխարհում»,- ասում է Օքսֆորդի համալսարանի Արևելքի ինստիտուտի պրոֆեսոր Հրաչ Չիլինկիրեանը։ (CivilNet.am 14 սեպտեմբեր, 2019)


Dr. Hratch Tchilingirian Appointed Director of Armenian Diaspora Survey

Calouste Gulbenkian Foundation, 23 May 2019

The Armenian Communities Department of the Calouste Gulbenkian Foundation, in partnership with the Armenian Institute of London, is pleased to announce the appointment of Dr. Hratch Tchilingirian as the Director of the Armenian Diaspora Survey (ADS) project.

Lecture: "Electing 'Patriarch of Constantinople': Church and State relations since the establishment of the Republic of Turkey." Eastern Christianity Lecture Seminar Series (6th edition), 28 May 2019, Pembroke College, Oxford.

NB Hebdo, N° 143 – 14 mars 2019: 5-6.

In memoriam : le patriarche Mesrob Moutafian (1956-2019)

Par Hratch Tchilingirian

Le patriarche Mesrob Moutafi an était l'un des hommes d'église les plus courageux, les plus intègres et les plus inspirés de l'histoire contemporaine de l'Église arménienne. Sa jeunesse, son charisme, son





A decade-long goodbye for a journey cut short

In Memoriam: Patriarch Mesrob Mutafyan (1956-2019)

Hratch Tchilingirian | CivilNet.am 10 March 2019

Patriarch Mesrob Mutafyan was one of the most courageous, principled and forward looking church leaders in the contemporary history of the Armenian Church. His youth, charisma, strong pastoral and

Saving the Crown Jewel

Why the future of the Armenian World's most coveted address hangs in the balance

By Daniel Halton

Along the narrow stone-covered streets, winding alleyways and ancient chapels inside Jerusalem's walled city, one of the oldest Christian communities in the world sets out to observe a sacred rite, just as it has for the past 1,700 years.... "The Armenian Patriarchate of Jerusalem is one of the richest and probably most significant living Armenian institutions in the world. The Patriarchate is the depository and custodian of an enormous religious and cultural heritage," observed Hratch Tchilingirian, Professor of Armenian Studies at Oxford University.

Peroomian, Tchilingirian to Speak at ARF's First Republic Conference

Glendale (Asbarez, March 7, 2018)—To mark and celebrate the 100th anniversary of the founding of the first Republic of Armenia, the Armenian Revolutionary Federation-Western United States, in collaboration with the California State University, Northridge Armenian Studies Program, has organized a two-day academic conference, "Armenian Statehood Reborn: Achievements and Reflections."… Two of the acclaimed speakers at the conference will be Dr. Hratch Tchilingirian and Dr. Rubina Peroomian...