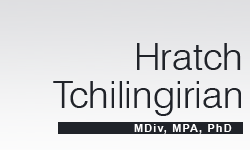 Search
Hratch Tchilingirian, Karabakh and Abkhazia. The Struggle for Independence in the post-Soviet South Caucasus. London: Sandringham House, 2003.

Could Armenians remain a global nation with a broken homeland?

EVN Report, September 16, 2017

In recent years a new discourse on "global Armenians" is increasingly becoming part of an effort of constructing a post-Genocide Armenian identity in the Diaspora — and Armenia. These new identity shapers seem to advocate a transition from "survival mentality" to celebration of life and success. One definition was provided in a full-page letter

Paper: "Precarious citizens: Christian communities in Turkey today" at Christians Across the Crescent. Christians Across the Crescent. Surveying the Christian communities in Egypt and the Middle East, organized by Centre of World Christianity, Department of Religion and Philosophies, SOAS, University of London.

8 July 2017, School of Oriental and African Studies

... culture and language a living experience, especially in diasporic life. Following his PhD in

sociology

at the London School of Economics, he was director of research on Eurasia and lecturer at Cambridge ...
... (

sociology

) դոկտորական կոչումը Լոնտոնի Տնտեսագիտութեան ու Քաղաքագիտութեան համալսարանէն (London School of Economics & Political Science): Տասը տարի պաշտօնավարած է Գեմպրիճ Համալսարանի ::/introtext:: ...

Invited participant: Workshop on "Religious Communities in the Holy Land during the era of the Great War", organised by Prof. Adrian Gregory, History Faculty, University of Oxford.

5 May 2016, Pembroke College, Oxford

Արարատ 10 Յունիս 2016

«Ազգային Մարտահրաւէրներ» Հանդիպում զրոյց Դոկտ. Հրաչ Չիլինկիրեանի հետ

(յօդուած)

... վրայ եւ կը բխին իր մտաւորական լայն տեսադաշտէն: Համալսարանական ուսումը Նիւ Եորք, Լոս Անճելըս եւ Լոնտոն ստա ցած է, իսկ Հասարակաբանական Գիտութիւններու (

sociology

) դոկտորական կոչումը Լոնտոնի Տնտեսագիտութեան ...

Hratch Tchilingirian (2016) "L'Eglise arménienne pendant la guerre froide : la crise Etchmiadzine-Antelias", NH Hebdo, 9 Juin.

l'Eglise Arménienne, en tant qu'institution religieuse, a été affectée à des fonctions « laïques » ou civiles pour « conduire la nation », alors que le clergé était devenu un agent et un médiateur mandatés par l'Etat entre les dirigeants, les gouvernements et les intérêts politiques. Dans le même temps, la société arménienne, en Arménie comme dans la diaspora, avait traversé un processus de sécularisation du fait d'un rationalisme et d'une modernité émergents, ce qui s'est traduit par le capitalisme, l'industrialisation et l'Etat-Nation. Ces développements historiques ont conduit l'Eglise arménienne à une sécularisation.




University of Fribourg

Invited speaker: "Religion, Nation and Democracy in the South Caucasus", organised by Academic Swiss Caucasus Net (ASCN)

14 November 2014

Conference programme




Christianity in the Contemporary Middle East - The Life and Death of a Tradition? Conference hosted by the Las Casas Institute, Blackfriars Hall, Oxford, in association with the Centre for Eastern Christianity, Heythrop College, University of London

Invited Speaker: "Armenian Christianity in the Middle East: modern history and contemporary challenges"

1 November 2014, Blackfriars Hall, University of Oxford

Conference programme & synopsis

Heythrop College, University of London, Centre for Eastern Christianity

Michaelmas Term Lecture Series

The Armenian Church, Society and Politics. The costs and challenges of the Soviet legacy in Armenia and the Diaspora

Dr Hratch Tchilingirian, Oriental Institute, University of Oxford

Dates and Topics

04 November: Introduction to the Armenian Church: Past and Present

11 November: The Soviet Regime and the Decline of the Church and Religion

18 November: The Soviet Regime and the 'Secularisation' of the Church

25 November: Post-Soviet Social and Political Dislocation and the 'Return' of Religion

The Bellarmine Room, Heythrop College, Kensington Square, London W8 5HN

Topics and synopsis




School of Oriental and African Studies, University of London

19 May 2014

The Centre of World Christianity, Dept for the Study of Religions, SOAS hosted on Monday 28th April, 2014 a Workshop, 'Christians in Syria and Iraq today: facing the challenges' to explore the realities of the Christian communities in Syria and Iraq. Six speakers presented a rich spread of papers, chaired by Dr. Erica C. D. Hunter.

The closed workshop was attended by Dr. Hratch Tchilingirian (University of Oxford), Mar Polycarpus (Metropolitan and Arch Vicar of the Netherlands, Syrian Orthodox Church), Dr. Naures Atto (University of Cambridge), Father Dr. Behnam Sony (St. Ephrem's Seminary, Karakoche, Iraq), Dr. Suha Rassam (Iraqi Christians in Need), and Dr. Anthony O'Mahony (Heythrop College). All participants presented and openly discussed papers pertaining to the current situation of Christians in Iraq and Syria under present conditions.

A detailed summary of the presented papers and the workshop can be found in the Report of Workshop Christians in Syria and Irac Today: Facing the Challenges.

The Soviet Regime and Decline of the Armenian Church and Religion

Dr Hratch Tchilingirian, 5 November 2013, Oriental Institute, Room 1

This lecture will discuss the establishment of Soviet rule in Armenia and the near extinction of the institutional church, especially in the 1920's, 30's and 40's. The Church suffered heavily under decades of Soviet rule, anti-religious propaganda and was stripped bare to its liturgical functions. This process furthered the "secularisation" of the church that had started in the 19th century. Particular focus will be on the relationship between the Armenian Church and the Soviet-State in the context of the 'Repatriation' of Armenians from the Diaspora to Soviet Armenia in the mid-1940s.

(synopsis of series)

Michaelmas Term 2013 - Hilary Term 2014

Armenian Religion, Society, Politics Seminar Lecture Series

Dr Hratch Tchilingirian, 22 October to 11 March 2014, Oriental Institute, Room 1

This lecture series will explore the contemporary crossroads where religion, society and politics intersect in Armenia and the Diaspora.

(synopsis)

Armenian Church, Survivor of the Ages, Faces Modern Hurdles

By DAVID M. HERSZENHORN - New York Times - October 4, 2013 - p.A6

ECHMIADZIN, Armenia - In this ancient city, tucked in a valley that has witnessed the rise and fall of empires, King Tiridates III converted to Christianity and declared Armenia to be the world's first Christian state. The year was 301, more than a decade before the Emperor Constantine put Rome on a similar path.

"... [the] agenda seemed to ignore tough issues in favor of safe topics," said Hratch Tchilingirian, an expert on the church who teaches at Oxford University's Oriental Institute.

Armenian Prelacy Celebrates 25th Anniversary of the Annual Sts. Ghevontiants Clergy Conference

Armenian Reporter International [Paramus] 01 Apr 2000: 14.

Antranig Baljian

Twenty-five years ago, in February of 1975, the Prelate Archbishop Karekin Sarkissian of blessed memory (later Catholicos of Cilicia and, even later, of All Armenians), conceived and organized a gathering of clergy from throughout the Prelacy to observe the Feast Day of Sts. Ghevontiank. This very first gathering of its kind took place at St. Gregory Armenian Apostolic Church in Indian Orchard, Massachusetts. For twenty-five years, this annual event has been observed in various communities throughout the Prelacy. This year, by arrangement of His Eminence Archbishop Oshagan, Prelate of the Armenian Apostolic Church of the Eastern United States and Canada, this observance was again held in the parish where it all began twenty-five years ago.

The keynote speaker for the conference was Mr. Hratch Tchilingirian, who has been involved in many church-related and national organizations. His topic was "The Challenges Facing the Armenian Apostolic Church in the Twenty-first Century," focusing on what the church's mission should be in today's world.

... seminars and workshops organized by CYSCA. The discussion was moderated by Hratch Tchilingirian, a researcher in

sociology

at the London School of Economics. Tchilingirian also served as ...

Djaragayt - The Beam - TV programme

Broadcast on 1 December 2012 on First Channel (Armenia), H1

Host Tsvetana Paskaleva presents a profile of Hratch Tchilingirian's scholarly and community activities in the Diaspora and interviews him on issues of preservation of identity and culture in the Diaspora and on Armenia-Diaspora relations. Co-hosted by Khachatur Gasparyan. Programme Director: Karine Hakobyan

... a Ph.D. candidate in

sociology

at the London School of Economics and Political Science, gave a public lecture about the Armenian-Azerbaijani conflict in the Haigazian University auditorium. The lecture, ...