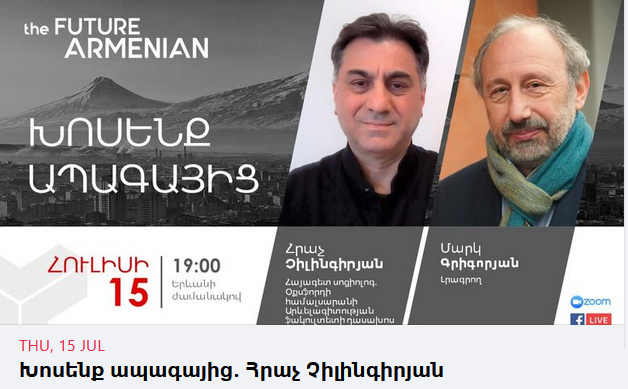 The Future Armenian, Futures Studio 15 July 2021.
«Խոսենք ապագայից» հատուկ շարքի շրջանակներում, հարցազրույց հայագետ սոցիոլոգ, Օքսֆորդի համալսարանի Արևելագիտության ֆակուլտետի դասախոս Հրաչ Չիլինգիրյանի հետ: Հայաստանի, Արցախի և աշխարհի հայերի ապագային վերաբերող հարցեր: Վարում է լրագրող Մարկ Գրիգորյանը:
Original in Armenia
Simultaneous English translation

Futures Studio hosted sociologist of Armenian Studies, University of Oxford – Dr Hratch Tchilingirian. We raised and discussed issues related to the image of the future of Armenia, Artsakh and Armenians around the world. The series of interviews is moderated by journalist Mark Grigorian.

В рамках специальной серии «Поговорим о будущем» нашим гостем стал учёный-арменовед, социолог кафедры востоковедения Оксфордского университета – Грач Чилингирян. Мы ставили и обсуждали вопросы, связанные с образом будущего Армении, Арцаха и армян всего мира. Ведущий серии – журналист Марк Григорян.