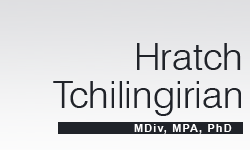 Search
Dr. Hratch Tchilingirian Appointed Director of Armenian Diaspora Survey

Calouste Gulbenkian Foundation, 23 May 2019

The Armenian Communities Department of the Calouste Gulbenkian Foundation, in partnership with the Armenian Institute of London, is pleased to announce the appointment of Dr. Hratch Tchilingirian as the Director of the Armenian Diaspora Survey (ADS) project.

Armenian Khatchkar in the Canterbury Cathedral's Memorial Garden

Hratch Tchilingirian | 2 March 2019

A new Armenian khatchkar (cross stone) was consecrated in the Canterbury Cathedral's Memorial Garden on Friday March 2nd. The Archbishop of Canterbury Justin Welby presided over the ceremony.

Saving the Crown Jewel

Why the future of the Armenian World's most coveted address hangs in the balance

By Daniel Halton

Along the narrow stone-covered streets, winding alleyways and ancient chapels inside Jerusalem's walled city, one of the oldest Christian communities in the world sets out to observe a sacred rite, just as it has for the past 1,700 years.... "The Armenian Patriarchate of Jerusalem is one of the richest and probably most significant living Armenian institutions in the world. The Patriarchate is the depository and custodian of an enormous religious and cultural heritage," observed Hratch Tchilingirian, Professor of Armenian Studies at Oxford University.

Paper: "Islamic Response to the Karabakh Conflict" at the 25th anniversary conference of "Le Caucase entre les Empires, XVIe-XXIe siècle", Journée d'étude en hommage à Claire Mouradian. Organisée par le CERCEC (CNRS/EHESS), École des Hautes Études en Sciences Sociales, Paris, 29 novembre 2018.

Hratch Tchilingirian (2018) "Armenia and Karabkah" in Christianity in North Africa and West Asia, edited by Kenneth R. Ross, Mariz Tadros, and Todd M. Johnson. Edinburgh Companions to Global Christianity 2. Edinburgh: Edinburgh University Press, 2018: 190-201.

Hratch Tchilingirian, Karabakh and Abkhazia. The Struggle for Independence in the post-Soviet South Caucasus. London: Sandringham House, 2003.

Could Armenians remain a global nation with a broken homeland?

EVN Report, September 16, 2017

In recent years a new discourse on "global Armenians" is increasingly becoming part of an effort of constructing a post-Genocide Armenian identity in the Diaspora — and Armenia. These new identity shapers seem to advocate a transition from "survival mentality" to celebration of life and success. One definition was provided in a full-page letter

Paper: "Precarious citizens: Christian communities in Turkey today" at Christians Across the Crescent. Christians Across the Crescent. Surveying the Christian communities in Egypt and the Middle East, organized by Centre of World Christianity, Department of Religion and Philosophies, SOAS, University of London.

8 July 2017, School of Oriental and African Studies

Lecture: "The 'Other' Citizens – Armenians in Turkey between Isolation and (dis)Integration", American University of Armenia (AUA), Political Science & International Affairs (PSIA).

Զրույց

Հրաչ

Չիլինգիրյանի

հետ

Մենք ծանոթացել ու զրուցել ենք մեր հայրենակիցներից Հրաչ Չիլինգիրյանի հետ, ով այսօր ապրում և գործում է Մեծ Բրիտանիայում: Նյու-Յորքում, Լոս Անջելեսում, Լոնդոնում ուսանած ու դասախոսող դոկտոր Չիլինգիրյանը օրերս դասախոսություն կարդացել է Արցախի համալսարանում սովորող ուսանողների համար և այդ կապը չափազանց կարևոր է: Մեր հյուրի հետ զրույցը աշխարհաքաղաքական հետաքրքրությունների ծիրում է:

Invited participant: Workshop on "Religious Communities in the Holy Land during the era of the Great War", organised by Prof. Adrian Gregory, History Faculty, University of Oxford.

5 May 2016, Pembroke College, Oxford

Արարատ 10 Յունիս 2016

«Ազգային Մարտահրաւէրներ» Հանդիպում զրոյց Դոկտ. Հրաչ Չիլինկիրեանի հետ

(յօդուած)

Hratch Tchilingirian (2016) "L'Eglise arménienne pendant la guerre froide : la crise Etchmiadzine-Antelias", NH Hebdo, 9 Juin.

l'Eglise Arménienne, en tant qu'institution religieuse, a été affectée à des fonctions « laïques » ou civiles pour « conduire la nation », alors que le clergé était devenu un agent et un médiateur mandatés par l'Etat entre les dirigeants, les gouvernements et les intérêts politiques. Dans le même temps, la société arménienne, en Arménie comme dans la diaspora, avait traversé un processus de sécularisation du fait d'un rationalisme et d'une modernité émergents, ce qui s'est traduit par le capitalisme, l'industrialisation et l'Etat-Nation. Ces développements historiques ont conduit l'Eglise arménienne à une sécularisation.




Chatham House, Russia and Eurasia Programme

Invited participant: "Azerbaijani Perspectives on the Nagorno-Karabakh Conflict" with Rovshan Rzayev, Member of Azerbaijani Parliament and Executive Board Member of the Azerbaijani Community of the Nagorno Karabakh Region, and Kavus Abushov, Assistant Professor of Political Science, ADA University, Baku.

29 September 2015, The Royal Institute of International Affairs, London.

... there are a number of critical security issues that need continued attention and solution, among them: unresolved territorial and ethnic conflicts (e.g.,

Karabakh

, Abkhazia, Chechnya); international terrorism ...
...  This talk on the Nagorno

Karabakh

conflict accompanies Imagined Futures, the first UK solo show by internationally exhibited artist Hrair Sarkissian, and aims to shed further light on issues ...

Chatham House, Russia and Eurasia Programme

Invited participant: "The Role of the OSCE Minsk Group in the Nagorny Karabakh Conflict" with Jacques Faure, Co-Chair of the OSCE Minsk Group (2012-2014); the Royal Institute of International Affairs, London, 13 January 2015.