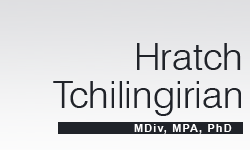 Search
... who, by himself, was responsible for 300 statues. A typical

Diaspora

n, she was born in Baghdad, raised in Lebanon and is a German citizen currently living and working in Egypt. Born into a family of ...

Armenian International Magazine (AIM) December 1999 Volume 10, No. 12, pp. 24-25

The Istanbul Summit

Fifty-Four Nations Discuss Regional Security and Conflicts

By HRATCH TCHILINGIRIAN

The much touted European security summit of the 54-nation Organization for Security and Cooperation in Europe (OSCE) was held in Istanbul in late November. President Robert Kocharian headed an Armenian delegation to the summit, where member heads of states and governments adopted a new Charter for European Security and a revised Treaty on Conventional Forces in Europe (CFE).

Armenian International Magazine (AIM) November 1999, Vol. 10, No. 11, p. 57

Catholics Elect New Patriarch
The Armenian Catholic Hierarchy and Community Face Daunting Challenges

By Hratch Tchilingirian

In mid-October, Cairo-born Bishop Bedros Tarmouni, 59, was elected Catholicos Patriarch of the Lebanon-based Armenian Catholic Church by the Synod of Bishops at the Monastery of Bzommar. Unlike the Armenian Apostolic Church, lay representatives do not participate in the election of a Catholic patriarch. The Synod is made of clergy delegates representing Catholic communities in Europe, the Middle East, the US, South America and Armenia. The new leader will be known as Patriarch Nerses-Bedros XIX.

...  The National Ecclesiastical Assembly (NEA), the highest legislative body of the

Armenian

Church made of 455 delegates from Armenia, Karabakh and 43 countries in the

Diaspora

, officially convened in Holy ...
... - - 1. Delegates Arrive for the National Ecclesiastical Assembly EJMIATSIN (AIM Magazine 10/25/99) -- Most of the 450 delegates from Armenia and 44 countries in the

Diaspora

have already arrived in ...

Armenian International Magazine (AIM), October 1999, Volume 10, Number 10, pp. 52-53

Big Player
Joe Baroutjian Reaches New Height in Lebanon's Music Industry

By HRATCH TCHILINGIRIAN

"Studio Joe" is tucked in the ground floor of an old, war-scarred building in a narrow alleyway of Beirut's Armenian neighborhood of Bourj Hammoud, where at night you can still park your car in the middle of the street and get away with it.

Armenian International Magazine (AIM), Volume 10, Number 10, October 1999, pp. 48-51

Back In Karabakh
Diocese of Artsakh Celebrates 10th Anniversary of Re-establishment

By Hratch Tchilingirian

The Diocese of Artsakh celebrates the 10th anniversary of its re-establishment in Mountainous Karabakh. Under the most trying circumstances, the Diocese was officially reopened in the spring of 1989 with a special encyclical by Catholicos Vazgen I of All Armenians, and with the appointment of Bishop Barkev Martirossian as Primate. (He became an Archbishop in June 1999).

Armenian International Magazine (AIM) Volume 10, Number 6, June 1999, p. 67

The Navy Band

Hratch Tchilingirian

Armenian Navy Band, subtitled Bzdik Zinvor (Small Soldier) is Arto Tunçboyaciyan's newest CD production (Svota Music 1999).

... and organizations in the

Diaspora

have responded positively to Mesrob II's call for help. Church leaders in Ejmiatsin, Yerevan, Beirut, New York, Los Angeles, Sydney and other cities have called upon their ...
... mutually beneficial relations even among far apart "islands." The current vigor of British-

Armenian

relations underscores another important factor: the role of

Diaspora

businessmen. Citizens of

Armenian

 ...
... of leading the people of God." One of the "debates" that has emerged since the death of Catholicos Karekin I is whether the next Catholicos should be a native of Armenia (insider) or a

Diaspora

n (outsider). ...
... East," Avedissian says with conviction. He elaborates his views when discussing artistic values in Armenia—where he visited for three months—and the

Diaspora

. "

Armenian

s' notion of artistic value is ...
... Tchilingirian The tiny

Armenian

community in the United Arab Emirates, numbering less than 2000, has a collective history of about 20 years. Unlike most established

Diaspora

communities around the world, ...
... the old days, when things looked bleak in the

Diaspora

n communities of the West, everyone looked to the Middle East for hope. There,

Armenian

s spoke, read, wrote

Armenian

. There, the future of the language ...
... representing almost nine million

Armenian

s in the republic and 32 countries in the

Diaspora

. Unlike other elections in the last five hundred years, this one was the first in a free and independent Republic ...
... among the first few

Diaspora

students who, back in 1964, studied in what was Soviet Armenia. In 1969, he graduated as actor and director from the State Drama and Fine Arts Institute in Yerevan. While studying ...

Armenian International Magazine (AIM) April 1999, Vol. 10, No. 4, p 58-59

AN ARAB HISTORIAN AND HIS CAUSE
Saleh Zahredeen Takes on the Armenian Genocide

By Hratch Tchilingirian

"The truth shall be told even while hanging on the gallows," confidently affirms Saleh Zahreedin, 48, Lebanese Druze historian and author of a dozen books and pamphlets in Arabic on the Armenians and the Genocide.

... "They also very much value the political, economic, cultural and other bilateral ties with Armenia. The existence of well-organized and well-to-do

Armenian

[

diaspora

] communities in these countries is ...
... states" who might possibly provide limited or full recognition. The establishment of such contacts have been possible with the support and lobbying efforts of the

Armenian

Diaspora

, especially in the Middle ...

Armenian International Magazine (AIM) February 1999, Vol. 10, No. 2, pp. 18-19

NOBODY'S LISTENING
Who is Responsible for Maintaining Armenia's Telephone System?

By HRATCH TCHILINGIRIAN

"Everything is being done to do nothing," said Makich Demirian, Chairman of the Merchants Guild of Armenia, regarding the recent and growing dissatisfaction with ArmenTel, Armenia's sole telecommunications company. An exasperated population in Armenia is caught between company executives looking out for corporate interests, a government trying to figure out which official made what deal with whom, and a political opposition garnering momentum on a critical economic issue prior to the May parliamentary elections.