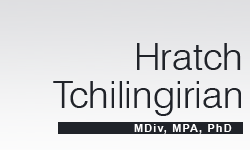 Search
... imperiali. Il catholicosato di Gandzasar fu trasformato in due diocesi e varie parrocchie sottoposte all'autorità del catholicosato di

Etchmiadzin

. Il metropolita Sarkis fu a capo della sede fino al ...
... of St. Stephen the Protodeacon, the Primate of the Diocese of Argentina (under the jurisdiction of the Mother See of

Etchmiadzin

), Archbishop Kissag Mouradian ordained 17-years-old Maria Carmen Ozkul, ...
... Armenians who invited the three bishops of the Patriarchate to

Etchmiadzin

for consultations and to jointly seek solution to the crisis. Within days after their return from

Etchmiadzin

, on March 15, ...
... has two branches,

Etchmiadzin

and Cilicia. What we are seeing now, at this juncture in our history, besides the traditional Diaspora community organizations, is a new thinking―professionals, academics, ...

Hratch Tchilingirian (2016) "L'Eglise arménienne pendant la guerre froide : la crise Etchmiadzine-Antelias", NH Hebdo, 9 Juin.

l'Eglise Arménienne, en tant qu'institution religieuse, a été affectée à des fonctions « laïques » ou civiles pour « conduire la nation », alors que le clergé était devenu un agent et un médiateur mandatés par l'Etat entre les dirigeants, les gouvernements et les intérêts politiques. Dans le même temps, la société arménienne, en Arménie comme dans la diaspora, avait traversé un processus de sécularisation du fait d'un rationalisme et d'une modernité émergents, ce qui s'est traduit par le capitalisme, l'industrialisation et l'Etat-Nation. Ces développements historiques ont conduit l'Eglise arménienne à une sécularisation.




... Saints le 23 avril 2015. La cérémonie solennelle se déroulerait au Saint-Siège d'

Etchmiadzin

à l'occasion du Centenaire du Génocide, où les nouveaux Saints de l'Eglise Arménienne seront annoncés et vénérés. ...
... announced that the martyrs of the Genocide will be formally declared saints on 23 April 2015. The solemn ceremony took place in Holy

Etchmiadzin

on the centenary of the Genocide, where the newest ...
... the new Primate's qualities and underlined: "Bishop Hovakim brings with him the warmest spirit of Armenia and Holy

Etchmiadzin

, extensive engagement in the Ecumenical world and pastoral experience ...
... coverage of the Pontifical Election in

Etchmiadzin

(1995) and how the National Ecclesiastical Assembly, convening for the first time in forty years, elected His Holiness Karekin I as Catholicos of ...

«Էջմիածին» Մաղաքեա Արքեպիսկոպոս Օրմանեան

["Ejmiatsin" by Archbishop Malachia Ormanian]

Արարատ, 31 Յունուար 1888




PDF Ormanian_Etchmiadzin_1888




Armenian Church, Survivor of the Ages, Faces Modern Hurdles

By DAVID M. HERSZENHORN - New York Times - October 4, 2013 - p.A6

ECHMIADZIN, Armenia - In this ancient city, tucked in a valley that has witnessed the rise and fall of empires, King Tiridates III converted to Christianity and declared Armenia to be the world's first Christian state. The year was 301, more than a decade before the Emperor Constantine put Rome on a similar path.

"... [the] agenda seemed to ignore tough issues in favor of safe topics," said Hratch Tchilingirian, an expert on the church who teaches at Oxford University's Oriental Institute.

... 26.

ETCHMIADZIN

, Armenia The Executive Committee of the 1700th Commemoration of Christian Armenia met for two days on October 24 and 25, in order to hear reports and examine the progress since ...

Broadcast on 28 November 2012 on Shoghakat and Luys Channels

News report on international conference on Diakonia Education held on 27-28 November 2012 in Etchmiadzin. Hratch Tchilingirian interviewed in the report about Diakonia.

... diaskonia in the formation of church communities. 27-28 November 2012

Etchmiadzin

, Armenia Conference programme ::/introtext:: ::fulltext::World Council of Churches Armenia Round Table Foundation ...
... than words. We need action, we need constructive, healthy, Christian, Armenian involvement. Not just talk, talk, talk…. Nobody should criticize

Etchmiadzin

for all the problems in Armenia. ...
... 

Etchmiadzin

, Armenia. Translated by Hratch Tchilingirian from the original Armenian. ::/introtext:: ::fulltext::Source: "Hairenik" monthly (Boston) 7 May 1924, pp 84-86. Komitas wrote ...
... 

Etchmiadzin

or in the Diaspora. I should note that some Hierarchical Sees are more aware of these issues and are carrying out more serious work in their respective jurisdictions. The Catholicosate of Cilicia, ...

1883 - Dioceses of the Armenian Church in the Russian Empire (in Armenian)

Ռուսական կայսրութեան տարածքին Հայաստանեայց Եկեղեցւոյ թեմերը 1883 թուականին:

... Los Angeles Asbarez, Los Angeles California Courier, Los Angeles Daily News, Los Angeles

Etchmiadzin

Monthly, Armenia Hrairk, Vienna Loosavohch, Yerevan Mother Church, Los Angeles Nor Gyank, Los Angeles ...
... Armenian Life Weekly, Los Angeles Armenian Reporter, New York Mirror-Spectator, Boston Observer, Los Angeles Asbarez, Los Angeles California Courier, Los Angeles Daily News, Los Angeles

Etchmiadzin

Monthly, ...