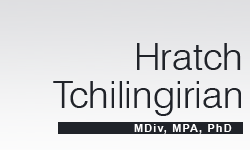 Search
Hratch Tchilingirian, Karabakh and Abkhazia. The Struggle for Independence in the post-Soviet South Caucasus. London: Sandringham House, 2003.

Paper: "Seeing the present from the future: Glocal Armenians and the Homeland?", ARPA Institute, 25th Anniversary Conference:Armenians and Armenia in the 21st Century: A Strategy for Long-Term Development.

15 July 2017, Glendale Civic Auditorium, Glendale, California.

... goals of this prescriptive "global

Armenia

nism" is "to transform the post-

Soviet

Armenia

n Republic into a vibrant, modern, secure, peaceful and progressive homeland for a global nation." This is, ...

Massis Weekly, 10 July 2017

GLENDALE – University of Oxford scholar, Dr. Hratch Tchilingirian will be in town to present a special illustrated talk titled, Precarious Citizens: Christian Communities in Turkey Today on Tuesday , July 18, 2017 at 7:30pm at Abril Bookstore – 415 E. Broadway, Glendale, CA. Scholar will be introduced by Mark Chenian. Admission is free.


Conference on "Armenian Identity in the 21st Century", Hrant Dink Foundation, Istanbul


«Հրանդ Տինք Հիմնարկ»ի ու «Համազգային»ի Գործակցութեամբ Գիտաժողով

ՍԵՒԱՆ ՏԷՅԻՐՄԵՆՃԵԱՆ

Հոկտեմբեր 7-8 թուականներուն կայացաւ «Հայկական ինքնութեան քննական մօտերցումներ 21-րդ դարուն՝ խոցելիութիւն, առաձգականութիւն եւ փոխակերպութիւն» խորագրեալ գիտաժողովը... Հրաչ Չիլինկիրեան (Օքսֆորտ համալսարանի դասախօս)- «Պէտք է ըսել, որ բացառիկ յաջողութեամբ անցաւ այս երկու օրը։ Ինծի համար յատկապէս իւրայատուկ երեւոյթ մըն է, որ «Հրանդ Տինք Հիմնարկ»ն ու Համազգայինը այս նախաձեռնութիւնը կազմակերպած էին։ Հայ ինքնութեան մասին Պոլսոյ մէջ հաւաքուիլ ու խօսիլ՝ կարծես առաւել


Սփյուռքի մեծամասնությունը հետաքրքրված չէ Հայաստանով. Հրաչ Չիլինկիրյան

«Սասնա ծռերի» գործողություններից հետո բավականին հետաքրքրական և անցումային շրջան տեղի ունեցավ: Սփյուռքը ավելի քաղաքական «ակնոցով» սկսեց նայել Հայաստանին, և սա իր ձևով խթան հանդիսացավ, որ Սփյուռքի որոշ շրջանակներ, որոնք ակտիվ չէին Հայաստանի քաղաքական կյանքում, սկսեն ուշադրություն


Interview on Armenia-Diaspora relations hosted by Siranush Papyan

Սփյուռքի մեծամասնությունը հետաքրքրված չէ Հայաստանով. Հրաչ Չիլինկիրյան

1in.am TV, 4 June 2017

Türkiye'de patrik seçimlerinde déjà vu

Hratch Tchilingirian, Oxford (Çeviri: Serap Güneş)

Türkiye'de yeni Ermeni Patriğinin seçilmesi süreci, geleneksel devlet dayatmaları, idari zorluklar ve Ermeni toplumuna yönelik keyfi muamelelerle karşı karşıya. Durum geçtiğimiz haftalarda Patrikhanedeki üst düzey din adamlarının meseleyi bölücü bir büyük krize dönüştüren şahsi çatışmaları ve hırsları nedeniyle daha da kötüleşti.

Patriarchal Election Déjà Vu in Turkey. Government Meddling in the Election is Inevitable, but Not Decisive

By Dr. Hratch Tchilingirian

The election process of a new Armenian Patriarch in Turkey faces the customary state-imposed restrictions, administrative hurdles and arbitrary treatment of the Armenian community. In recent weeks, the situation has been exacerbated by personality clashes and ambitions of the high ranking clergymen at the Patriarchate, who have turned a problem into a divisive major crisis.

Lecture: Հայ եկեղեցին, հասարակութիւն և քաղաքականութիւն. Խորհրդային ժառանգութեան ազդեցութիւնն ու մարտահրաւէրները», Երևանի Պետական Համալսարան, Մշակութաբանության ամբիոն, Yerevan State University, Dept. of Cultural Studies.

17 November 2016, Yerevan.

Լecture: "Religious Extremism, military conflicts and Christian communities in the Middle East Today", American University of Armenia (AUA), College of Humanities & Social Sciences (CHSS).

17 November 2016, AUA, Yerevan.

Lecture: "The 'Other' Citizens – Armenians in Turkey between Isolation and (dis)Integration", American University of Armenia (AUA), Political Science & International Affairs (PSIA).

15 November 2016, AUA, Yerevan

Presentation: «Աերեւմտահայրէնը 21րդ դարուն.- առաջարկներ», Երեւանի պետական մանկավարժական համալսարան, Սփյուռք գիտա-ուսումնական կենտրոն.

14 November 2017

«Մերձավոր Արեւելքի հայկական համայնքները, ներկա խնդիրներ եւ ապագայի մարտահրավերներ», Շուշիի Տեխնոլոգիական Համալսարան, Shushi University of Technology.

11 November 2016.

Lecture: "A 15th century 'Curriculum for Educating Infants' in the Armenian Church", Eastern Christianity Lecture Series convened by the Oxford Armenian Studies, The Oriental Institute, University of Oxford

7 February 2017, Pembroke College, Oxford

... through a vivid discussion with some 30 curious attendees. Dr Tchilingirian said the concept of post-truth politics is not a new phenomenon, explaining that it was already an integral part of

Soviet

 ...