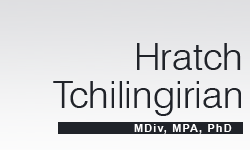 Search
...  What we see recently with the open letters and petitions, these are people who are coming for

war

d with their own initiatives, who themselves feel marginalized and are showing resistance to the "leadership ...

Invited participant: Workshop on "Religious Communities in the Holy Land during the era of the Great War", organised by Prof. Adrian Gregory, History Faculty, University of Oxford.

5 May 2016, Pembroke College, Oxford

Hratch Tchilingirian (2016) "L'Eglise arménienne pendant la guerre froide : la crise Etchmiadzine-Antelias", NH Hebdo, 9 Juin.

l'Eglise Arménienne, en tant qu'institution religieuse, a été affectée à des fonctions « laïques » ou civiles pour « conduire la nation », alors que le clergé était devenu un agent et un médiateur mandatés par l'Etat entre les dirigeants, les gouvernements et les intérêts politiques. Dans le même temps, la société arménienne, en Arménie comme dans la diaspora, avait traversé un processus de sécularisation du fait d'un rationalisme et d'une modernité émergents, ce qui s'est traduit par le capitalisme, l'industrialisation et l'Etat-Nation. Ces développements historiques ont conduit l'Eglise arménienne à une sécularisation.




... was to take a small step to

war

ds a new thinking and new direction, with the hope that the leadership in Armenia and the Diaspora would not remain indifferent to

war

ds the critical issues regarding the vitality ...

Paper: "The Armenian Church During the Cold War and the Chasm Between Ejmiatsin and Antelias" and Opening Remarks presented during roundtable on "The Legacy of the Armenian 'Cold War' Today; Recommendations for Future Research at "Armenians and the Cold War" conference, organised by Armenian Research Centre, University of Michigan-Dearborn,

1-3 April 2016, University of Michigan-Dearborn

Conference program

Lecture: "Christian Communities in the midst of extremism, regional military conflicts and wars in the Middle East"

20 October 2015, The Oriental Institute, University of Oxford

Programme

... been explained to the ordinary Armenian faithful. The saints are canonized primarily for the faithful. Declaring the Genocide martyrs as saints is not re

war

ding them the "medal of honour," but ...
... brings with him the

war

mest spirit of .... ::/introtext:: ::fulltext::Armenian Church News, Vol. 1, Issue 3, 25 July 2015 Another Successful Armenian Street Festival The Fifth Armenian ...
... patients, orphans, elderly and mentally ill people are sheltered and treated. "No doubt, the generous public, always showing care to

war

ds this institution that provides the only shelter to the destitute ...

New 'software' is needed for Armenian identity in the 21st century

Hratch Tchilingirian | 14 December 2014

... to genocide from 1914 on

war

ds by "Young Turk Movement" Ottoman forces and their collaborators. According to expert Prof. Vahakn Dadrian, the mass-slaughter continued until 1920/1921, when forces under ...
... two-day seminar for Armenian leaders to discuss future scenarios. The gathering was a high-level forum where for

war

d-looking strategic discussions took place in a private, invitation-only environment. ...

Ասատուր Սաչեան, «Դրուագներ Հաճնոյ Հերոսամարտէն եւ Հերոսին Ոդիսականը» (յուշեց՝ Հերոս Ասատուր Սաչեան, գրեց՝ Արամ Ասպետ), Պէյրութ, Տպ. Տօնիկեան, 1961.

[Stories of Resistance in Hajen and the Odyssey of Hero Assadour Satchian, Beirut: Doniguian Press, 1961]

[download entire book (324 pages)]

... of Dr. Jack Kevorkian, or "Doctor Death", as he became known in the American media. Window Vol. IV, No. 1, 1994 Theology of

War

: Karabakh — The main focus of this issue is the religious revival ...
... the cold

war

, while those from Lebanon refused to attend. He said that last week's agenda seemed to ignore tough issues in favor of safe topics. For example, before the 75th anniversary of the genocide, ...
... during the previous two centuries, and how Russian incompetence and

war

ring would damage its hapless neighbour. Ironically, today, it is the opposite. It is the success, rather than the hazardous ...
... A procession led by Armenian scouts and their band, advance the Patriarch into the Church of Nativity, while priests, seminarians and the faithful join in the sing of Armenian hymns. After

war

ds, church ...
... however, instead of taking a hostile attitude to

war

ds the Armenians became most congenial with them. These two means failing, the Armenians were told that they had to leave at once for Istanbul.  ...
... pastors would be well equipped to wage the

war

against the new paganism, which today can be considered the wholesale incursion of society's ills into the life of the church. In addition, one felt a certain ...