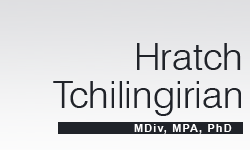 Search
Armenian International Magazine (AIM) November 2000 Vol. 11, No. 11

Catholicos Visits John Paul II
Heads of 'Sister' Churches Renew Ties

By HRATCH TCHILINGIRIAN

The heads of the Armenian and Roman Catholic Churches met in the Vatican during Catholicos of All Armenians Karekin II's official three-day visit to Rome.

Armenian International Magazine (AIM) Vol. 11, No. 10, October 2000, pp. 58-61.

Risking Democracy
Much at stake for President and Son in upcoming elections in Azerbaijan

By HRATCH TCHILINGIRIAN

Azerbaijanis will go to the polls on November 5 to cast their votes for a new Parliament. However, indirectly, it seems they will be voting for a new president. An ailing President Haidar Aliyev, hospitalized at the Cleveland Clinic in Ohio where he had heart surgery just a few years ago, must hang on until the elections, until his son Ilham Aliyev is elected to Parliament. This would make the younger Aliyev eligible for the position of that body's Speaker, and thus able to assume the duties of the president in the event the head of state is incapacitated or dies.

Armenian International Magazine (AIM) Vol. 11, No. 10, October 2000, pp. 40-44. COVER STORY

Dividing Jerusalem
Armenians on the line of confrontation

By HRATCH TCHILINGIRIAN

The Armenian Quarter in the Old City of Jerusalem has become one of the most talked about issues in the ongoing Palestinian-Israeli negotiations over the final status of the city that is sacred to Christians, Jews and Muslims. At the Camp David II talks in the US in July [2000], it was proposed that the Old City be divided into two sections: Israeli control over the Jewish and Armenian quarters and Palestinian control over the Christian and Muslim quarters.

Armenian International Magazine (AIM) July 2000, Volume 11, No. 7, pp. 44-45.

COUNCIL OF EUROPE
Parliamentary Assembly of Council of Europe Votes In favor of Armenia's membership

By Hratch Tchilingirian

On June 28 the Coucil of Europe Parliamentary Assembly (PACE) voted unanimously to approve Armenia's bid to join the 41-member organization. Armenia is set to become a full member of Council of Europe (CE) when its Committee of Ministers meet in September. Azerbaijan's bid was also overwhelmingly accepted, with just one vote against.

... as an extension of the

military

commanders' efforts to extend their control. Thus, the widespread searches and arrests were understood and tolerated in that light. However, the arrest of journalist Vahram ...
...  Dadoyan has found much material on Armenia in Islamic literature, especially among the chroniclers of the period. She mentions the example of one chronicler, who in 1138, wrote about Armenian para

military

 ...
... Shnork Kalustian, Patriarch of Istanbul, was called to testify before the

military

court. The Turkish press reported on the trial of the "priest who is Turkey's enemy." The US State Department turned down ...
... Medical Psychology Section. "The need to listen to them is enormous and essential," he adds. Much has been written about the political,

military

and economic implications of the devastating war in Karabakh, ...

Armenian International Magazine (AIM) Vol. 11, No. 1, January 2000, pp. 35-38; 43.

WHEN SMALL IS BIG

Armenian Evangelicals Render a Century and a Half of Service

By Hratch Tchilingirian

Numbering only 50 to 70,000 around the world, Armenian Evangelicals are among the most organized, visible, and active of the world's eight million-plus Armenians. Despite their small numbers and their periodic conflicts with the Armenian Apostolic Church, the legitimacy, value and mission of the Armenian Evangelical Church has become indisputable over the last century and a half. Just the fact that it is politically incorrect to call them Protestants – they're Evangelicals – attests to a change of attitude and acceptance; they are no longer seen as "protesters" but as believers genuinely involved in Christian mission and evangelization.

... under such security arrangements all foreign troops should be withdrawn from the region. However, such a prospect leaves the issue of existing Russian

military

bases in Armenia in contention. The landmark ...

Armenian International Magazine (AIM), Volume 10, Number 10, October 1999, pp. 48-51

Back In Karabakh
Diocese of Artsakh Celebrates 10th Anniversary of Re-establishment

By Hratch Tchilingirian

The Diocese of Artsakh celebrates the 10th anniversary of its re-establishment in Mountainous Karabakh. Under the most trying circumstances, the Diocese was officially reopened in the spring of 1989 with a special encyclical by Catholicos Vazgen I of All Armenians, and with the appointment of Bishop Barkev Martirossian as Primate. (He became an Archbishop in June 1999).

... national rescue teams. European countries sent nearly 2,000 rescue and medical workers and a large contingent of rescue teams and

military

personnel reached the disaster zone within days from the US ...

Armenian International Magazine Volume 10, Number 10, October 1999, p. 10

[Editorial by Hratch Tchilingirian]

Two Different Islands
Cooperation among state officials, policy makers and businesses benefits all

In the last few years, Great Britain, a huge and important island in Europe, has gone through a process of reassessing its foreign policy in the South Caucasus, Central Asia and Armenia in particular.

Armenian International Magazine (AIM) June 1999, Volume 10, Number 6, pp 46-48

Master of Grand Theater
Gerard Avedissian in the Cultural Landscape of Lebanon

By Hratch Tchilingirian

Playwright, actor, director and producer Gerard Avedissian, 55, is one of the most sought-after artists in the Middle East. A regular guest on the Lebanese television talk show circuit and the cultural scene, Avedissian is the master of the grand theater. "People expect something big and something well done," he says, when they see his name associated with a theatrical production. In 1997, when he wrote, directed and co-produced "Ghadat Al-Camilla"—a musical play inspired by Alexandre Dumas Jr's The Lady of the Camellias—some 55,000 people saw the production in one season.

... by anonymous callers, "The Turkish

military

attaché in Beirut told me, 'you are persona non grata in Turkey'. I was expecting such reaction but thought it would be worse: A government that kills 1.5 million ...
... get very confusing. In 1995, Azeri Presidential Senior Foreign Policy Advisor Vafa Guluzade stated, "In the

military

and technical treaties we recognize the Armenians of Karabakh as a 'warring party.' ...

Armenian International Magazine (AIM) December 1998, Vol. 9, No. 12, p. 52

The People's Choice
Archbishop Mesrob Mutafyan Elected 84th Armenian Patriarchate of Turkey.

By HRATCH TCHILINGIRIAN

After months of state interference, the Governor of Istanbul-having received the required approval of Turkey's Council of Ministers-permitted the 80,000-strong Armenian community of Turkey to proceed with the election of a successor to Patriarch Karekin II who passed away in March of this year.

Armenian International Magazine (AIM) April-May 1998 (pp 28-29)

Fair, Free… And Oil
Western Journalists on Armenia's Elections

By Hratch Tchilingirian

As the election campaign started to unfold in Armenia, dozens of foreign journalists were dispatched to Yerevan to cover the presidential elections--a place they described as a "small," "mountainous," "landlocked" country in the Caucasus, where "corruption is widespread and unemployment high."

... Office of the Governor of Istanbul. Turkish law mandates Kazanjian's successor be a Turkish citizen, preferably one who has completed Turkish

military

service; this limits the list of eligible candidates ...

Armenian International Magazine (AIM) December 1995

"Collaboration First Unity Later, Maybe"
Two new Catholicoses in One Year

by Hratch Tchilingirian

The Catholicossal election that was held in Etchmiadzin, April 3-5 of this year, was an event with many historical firsts. The National Ecclesiastical Assembly (NEA), the highest legislative body of the Armenian Church, convened for the first time in 40 years. The election took place for the first time in a free and independent Armenian Republic. For the first time in history, the Catholicos of the Great House of Cilicia was elected Catholicos of All Armenians in Etchmiadzin.