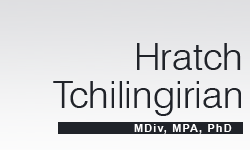 Search
... key human rights and governance issues in Azerbaijan including democratic development, rule of law, media freedom and property rights, while examining the impact of its

international

relations

hips, the ...

Armenian International Magazine (Los Angeles), April 1999

Editor's Note

Hratch Tchilingirian appointed Managing Editor

[see PDF version]

AGOS Issue/Sayi: 609 - 30 Kasım [November] 2007

Hrant Dink ve Ermeni-Tűrk ilişkileri

Ayda Erbal

"... Richard Hovannisian ve Andras Riedlmayer'in gok kisa birer agilis konusmasi yaptigi panelin ilk sunucusu, Cambridge Universitesi Sosyoloji Bolumu'nden Hratch Tchilingirian oldu. 'Hrant Dink'ten once Hrant Dink: Turkiye'deki Ermeniler' baslikh sunumuna ..."






Andras Riedlmayer (Harvard), Hratch Tchilingirian (Cambridge), Richard Hovhanissian (UCLA), Etyen Mahçupyan (Agos) at MESA Conference, Montreal 2007.

Al Jazeera - Sunday 21 December 2003

Thaw in Turkey-Armenia relations
By Jonathan Gorvett in Istanbul

Despite continuing tensions between Turkey and Armenia over allegations of a 20th century genocide, the two countries seem to be moving closer together.

[see PDF version]

The Department of the Study of Religions, School of Oriental and African Studies, University of London

Lecture Series: Relations between the Churches, west, east and oriental

Lecture

War and Ecumenism: the case of Nagomo Karabakh

26 January 1996 at 6 p.m. in Brunei Gallery

École des hautes études en sciences sociales

JOURNEES CAUCASE: SORTIR DE L'EMPIRE : LE CAS DES ETATS SUD-CAUCASIENS

Paper

"International and Regional Security Issues and the South Caucasus"

25-26 novembre 2004, Paris

EHESS - 105 bd Raspail - 75006 PARIS - Amphitheatre

London School of Economics

LSE Forum for Russian, Eastern European and Eurasian Studies Schapiro Seminar

Lecture

Restructuring Minority-Majority Relations in Soviet and Post-Soviet Abkhazia and Karabakh

Chair: Prof. Dominic Lieven

Tuesday 26 October 2004; 5:00pm
D702. Clement House

Middle East Study Association (MESA), Annual Conference, Montreal

Speaker

Special Session: On Hrant Dink and Armenian-Turkish Relations

18 November 2007, Montreal, Canada

Chairs: Andras J. Riedlmayer, Harvard U and Richard G. Hovannisian, UCLA

Speakers:

Hratch Tchilingirian, Cambridge U - Hrant Dink before Hrant Dink: Armenians in Turkey
Fatma Miige Gocek, U of Michigan - Hrant Dink and Turkish-Armenian Dialogue
Levon Zekiyan, Universita Ca'Foscari, Venice - Hrant Dink's Innovative Approach to Armenian-Turkish Relations. Its Context, Challenge, and Prospects
Etyen Mahcupyan, Journalist/Writer, Turkey - Agos and the Hrant Dink Foundation: Looking at the Future

International Institute for Strategic Studies (IISS), London

Speaker

Nagorno-Karabakh Conflict: Prospects for Peace

Panel 5: Prospects for Peace: Where do zve go from here?

- Tom de Waal, Institue for War and Peace Reporting
- Hratch Tchilingirian, Cambridge University
- Leyla Aliyeva, Independent analyst

Chair: Jonathan Cohen, Conciliation Resources

24 September 2007

VONS (London) February (Issue 125), 2010

Armenian Turkish Rapprochement: What Now?

Hratch Tchilingirian

Turkey and Armenia signed two protocols on 10th October 2009 in Zurich which was the culmination of months of talks. Under the agreement, Turkey and Armenia will establish diplomatic relations and re-open their border. The protocols, which need to be approved by the Parliament of each country, also calls for a panel to investigate the "historical dimension" of the two countries relations - an unmentioned reference to the issue of the genocide of Armenians during World War I.




... that Catholicos Karekin -- with his past, with his experience, and especially with his

international

relations

-- was the most qualified among the clergy, who would help ease the current and most difficult ...
... and the political economy of "transition" have become hot topics in regional and

international

relations

. While strong economic growth as a result of globalization has improved the lives of people ...

The Armenian Reporter Int'l, October 12, 1996

THE ARMENIAN CHURCH UNDER THE SOVIET REGIME

Book Review

Felix Corley, Religion in the Soviet Union: An Archival Reader. London: Macmillan Press, 1996, 402 pages.

How did the Soviet government deal with religion in the USSR? For many years it has been possible to read the reaction of believers to the Soviet state's attempt to control religious groups. But now Felix Corley's Religion in the Soviet Union: An Archival Reader, for the first time in English, provides a collection of documents that reveal the struggle between religion and the Communist state from the other side. In their own words the bureaucrats debate policy, issue orders and seek to maximize their control over all aspects of religious life. Using KGB, Central Committee, Council for Religious Affairs and local official documents, Felix Corley has built up a picture of how policy was applied to religious questions in many different areas of life—with the unchanging aim of control.

... foreign countries. As such, it is not a major political move on our part. It is an aim of our foreign policy to establish contacts with

international

structures, especially European institutions. As ...
... p. 53. M. Gorbachev is currently President of

International

Green Cross. 5. ibid., p. 366. 6. Benedict M. Ashley and Kevin D. O'Rourke, Health Care Ethics: A Theological Analysis, (St. Louis: The ...
... the history of the Armenian Church in the diaspora, an

international

Conference of Armenian Clergy was held in New York from July 17-21, 1991. ::/introtext:: ::fulltext::Window view of ...
... the Permanent Peoples' Tribunal, Paris (1984) and most recently the

International

Center for Transitional Justice (ICTJ), which was commissioned in 2003 by TARC to determine the applicability of the UN ...
... in transforming a 'domestic' problem in the Caucasus--the 'Karabakh conflict' that started in the late 1980s--into an

international

issue. They have turned the early years of political activism and 'freedom ...

Window view of the Armenian Church, Vol. 3, No. 1, 1992

THE PRICE OF FREEDOM

Conversation with His Holiness Vazken I
Supreme Patriarch and Catholicos of All Armenian
Holy Etchmiadzin, Armenia

By Hratch Tchilingirian

... an

international

body as such. In this respect, the Church-as it has been the case in history-can contribute to the realization of our national agenda and preservation of our identity in the diaspora. ...