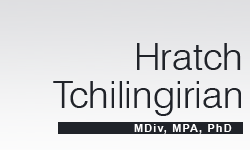 Search
The Armenian Reporter (New York), 13 May 1995


The Cilician Election and Church Unity Discussed in An Interview with Khachig Babikian, Esq.

HRATCH TCHILINGIRIAN

The following interview, conducted by the editor of Window Quarterly with Mr. Khachig Babikian, Chairman of the World General Assembly of the See of Cilicia, has been made available to a select few Armenian newspapers, including TAR Int'l

LONDON, UK - As Antelias prepares for the election of a new Catholicos of the Great House of Cilicia, on April 20, 1995, this writer conducted an interview with Attorney Khachig Babikian, Chairman of World General Assembly of the Great House of Cilicia and member of the Lebanese Parliament, discussing the details of the election and the issue of church unity.

Al-Raida, Vol. XII, No. 69, Spring 1995

Book Review: Balancing the Traditional and the Modern

Azadouhi Simonian, Youth and Education (in Armenian, Beirut 1995)

The post-cold war era has been a mixed bless ing for the "new world or der". On the one hand, there is increasing inter est in social, ecological, gender and moral issues facing the world; on the other hand, nationalism and politicized religion have dominated the central stage of public discourse.

The Independent (UK) Published: 28 March 2007

Andranik Margaryan
Prime Minister of Armenia

Andranik Margaryan, politician: born Yerevan, Soviet Union 12 June 1951; Prime Minister of Armenia 2000-07; married (one son, two daughters); died Yerevan, Armenia 25 March 2007.

Armenisch-Deutsche Korrespondenz (ADK)[Koln], No. 103, 1999/Heft 1, pp. 7-8; No. 104, 1999, Heft 2, pp. 2-4.

Berg-Karabach: Die Außenpolitik im Wandel [published in German, see PDF versions]

[Nagorno Karabakh: Foreign Policy in Transition]

Hratch Tchilingirian

For over a decade now, the Nagorno Karabakh conflict in the South Caucasus remains the oldest unresolved conflict in the former Soviet Union. Meanwhile, a fragile cease-fire since May 1994 remains in place and the OSCE's Minsk Group continues attempts to mediate a resolution.

Groong 5 April 2002

Armenian monks safe in Bethlehem, for now
"We are waiting for the arrival of our fate," says Fr. Joundourian

By Hratch Tchilingirian, London

IntraPress News, 5 April 2002 – The seven Armenian priests and monks trapped in the Armenian section of the Church of Nativity in Bethlehem are safe, said Fr. Khat Joundourian, 34, deputy abbot of the Armenian monastery in Bethlehem in a telephone interview this morning (Friday, 2:30 AM Bethlehem time) as the military operations in the area continued.

... [of 1988], a group of people came from America and proposed to build a large factory in Armenia. We ourselves welcomed this proposal, this

humanitarian

proposal. However, in time they had plans to build ...

Window view of the Armenian Church, Vol. 4, No. 2, 1994

NATION BUILDING AND THE CHURCH
Reflections on the Mission of the Armenian Church Today

A Conversation with His Holiness Karekin II
Catholicos of the Great House of Cilicia

By Hratch Tchilingirian

Window view of the Armenian Church, Vol. 2, No. 3, 1991

CHURCH AND STATE IN ARMENIA

An Exclusive interview with Ludwig Khachadrian
Minister of Religious Affairs of the Republic of Armenia

By Hratch Tchilingirian

Window view of the Armenian Church, Vol. 4, No. 4, 1994

UNITY EFFORTS BETWEEN
EASTERN AND ORIENTAL ORTHODOX CHURCHES

A Conversation with Archbishop Aram Keshishian (now Catholicos Aram I of Cilicia)
Moderator of World Council of Churches and Prelate of the Armenian Church in Lebanon

By Hratch Tchilingirian

Groong: Review & Outlook, April 2, 1998

Reuters' Deeply Biased Coverage of Armenian Elections
An Analysis of 18 reports by Lawrence Sheets from Yerevan

by Hratch Tchilingirian

Reuters' journalistic objectivity and reputation have become questionable in the wake of its deeply biased coverage of the recent presidential elections in Armenia.

ANN/Groong Interview with Karen Ohanjanian, 31 March 1998

Current Social, Economic and Political Situation in Nagorno Karabakh

Hratch Tchilingirian conducted this interview for ANN/Groong.

KAREN OHANJANIAN, a member of the International Coordination Committee of the Helsinki Citizens Assembly and a member of the Parliament of Nagorno Karabakh Republic, was recently in Boston as a guest speaker at a conference at the Fletcher School of Law and Diplomacy.

Groong: Review and Outlook, March 13, 1998

Presidential Elections in Armenia: Candidates and Issues

By Hratch Tchilingirian

The presidential election on March 16 will bring to power Armenia's second leader since independence. Prospects for democracy, political stability and international credibility depend on the holding of a free, fair and non- violent poll.

Groong: Review & Outlook. February 6, 1998

POLITICAL CRISIS IN ARMENIA
Armenia faces its first major post-Soviet leadership change

By Hratch Tchilingirian

Weeks of political crisis in Armenia took a sharp turn when President
Levon Ter-Petrosian announced his resignation on February 3. Forces
opposed to Ter- Petrosian's compromise stance on Nagorno-Karabakh
appear set for ascendancy in Armenia for some time.

Groong: Review and Outlook, 23 December 1997

ARMENIA: POLITICAL PROSPECTS FOR 1998

By Hratch Tchilingirian

In late December, the OSCE Ministerial Council in Copenhagen marked the end of Armenia's yearlong efforts of political recovery subsequent to the Lisbon Summit in December 1996. Contrary to expectations and due to Armenia's diplomatic efforts, the Ministerial Council did not make any substantive declarations concerning Nagorno Karabakh. Armenia characterized the outcome in Copenhagen as "positive," since it did not create "additional obstacles" for the peace process in general.

Oxford Analytica Daily Brief Oct 1, 1997

ARMENIA: Foreign Relations

[Hratch Tchilingirian]

A senior presidential foreign policy adviser resigned last month at a time when Armenia has been mounting a relatively successful effort to build its international ties.

... However, in February 1992, the Organisation of Security and Co-operation in Europe–CSCE at the time–called for a cease-fire,

humanitarian

aid

, an arms embargo and a guarantee of human right. Since then, ...

War Report, No. 50, April 1997
(c) Copyright: The Institute for War and Peace Reporting 1997

ARMENIA: REBOOTING THE POLITICAL HARD DRIVE
The Karabakh leader becomes Armenia's new prime minister

by Hratch Tchilingirian

On March 20 President Levon Ter-Petrossian named the leader of the self-proclaimed Republic of Nagorno Karabakh, Robert Kocharian, 43, as Armenia's new prime minister. He replaces Armen Sarkissian who resigned on March 6 owing to serious illness.

"The Nagorno Karabakh Conflict"

Hratch Tchilingirian

Conflict and Confidence Building Project

VERTIC Caucasian Region Discussion Group

London, 6 March 1995

Yevrobatsi - Publié le : 06-03-2007

"Hrant Dink et les Arméniens en Turquie" (traduction Georges Festa)

par Hratch Tchilingirian

[L'assassinat du journaliste turco-arménien Hrant Dink, le 19 janvier 2007, et ses conséquences mettent en lumière à la fois les changements et les résistances aux changements dans la société turque. Pour comprendre le long chemin traversé par les dernières générations en Turquie, Hratch Tchilingirian examine le rôle personnel de Hrant Dink dans le contexte de la communauté arménienne dont il était le porte-parole, le critique et le symbole.]

Armenian International Magazine (AIM), Vol. 12, Issue 3, April 2001, pp. 30-36

THE FORGOTTEN DIASPORA
Bulgarian-Armenians after the end of Communism

By Hratch Tchilingirian

"As long as my neighbor is worse, I don't have to be better," goes the Bulgarian saying. When faced with enormous problems, a sense of relative wellness might provide temporary comfort. A decade after the fall of Communism, Bulgarian-Armenians describe the current state of their community with both pessimism and hope -- and offer many ideas for a preferred future.