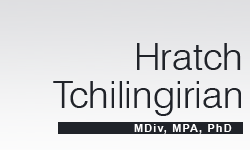 Search
Paper: "Seeing the present from the future: Glocal Armenians and the Homeland?", ARPA Institute, 25th Anniversary Conference:Armenians and Armenia in the 21st Century: A Strategy for Long-Term Development.

15 July 2017, Glendale Civic Auditorium, Glendale, California.

Speaker: "Christianity in the Middle East today", Middle East Ecumenical Network (UK), hosted by Christians Aware.

3 October 2017, Friends House (Euston), London.

Could Armenians remain a global nation with a broken homeland?

EVN Report, September 16, 2017

In recent years a new discourse on "global Armenians" is increasingly becoming part of an effort of constructing a post-Genocide Armenian identity in the Diaspora — and Armenia. These new identity shapers seem to advocate a transition from "survival mentality" to celebration of life and success. One definition was provided in a full-page letter

... plight of minorities and Christian communities in the

Middle

East

, especially in academic and policy-making circles. Following his PhD at the London School of Economics, he was director of research on ...

Lecture: "Precarious citizens: Christian communities in Turkey today", as part of the Eastern Christianity Lecture Series.

9 May 2017, Pembroke College, Oxford


Conference on "Armenian Identity in the 21st Century", Hrant Dink Foundation, Istanbul


«Հրանդ Տինք Հիմնարկ»ի ու «Համազգային»ի Գործակցութեամբ Գիտաժողով

ՍԵՒԱՆ ՏԷՅԻՐՄԵՆՃԵԱՆ

Հոկտեմբեր 7-8 թուականներուն կայացաւ «Հայկական ինքնութեան քննական մօտերցումներ 21-րդ դարուն՝ խոցելիութիւն, առաձգականութիւն եւ փոխակերպութիւն» խորագրեալ գիտաժողովը... Հրաչ Չիլինկիրեան (Օքսֆորտ համալսարանի դասախօս)- «Պէտք է ըսել, որ բացառիկ յաջողութեամբ անցաւ այս երկու օրը։ Ինծի համար յատկապէս իւրայատուկ երեւոյթ մըն է, որ «Հրանդ Տինք Հիմնարկ»ն ու Համազգայինը այս նախաձեռնութիւնը կազմակերպած էին։ Հայ ինքնութեան մասին Պոլսոյ մէջ հաւաքուիլ ու խօսիլ՝ կարծես առաւել


Հարցազրոյց Հրաչ Չիլինկիրեանի հետ

Մեր­ձա­ւոր Ա­րե­ւել­քի ք­րիս­տո­նէու­թեան եւ հա­յու­թեան առ­ջեւ ծա­ռա­ցած եր­կու հիմ­նա­կան խնդիր­նե­րը՝ անվ­տան­գու­թիւն եւ գաղ­թա­կա­նու­թիւն

... in Egypt and the

Middle

East

, organized by Centre of World Christianity, Department of Religion and Philosophies, SOAS, University of London. 8 July 2017, School of Oriental and African Studies Programme ...

ԿԱՐԵՒՈՐ ՄՏԱՀՈԳՈՒԹԻՒՆՆԵՐ

Սփիւռքահայ գիտնականը կը մեկնաբանէ Մերձաւոր Արեւելքի քիրստոնէութեան առջեւ ծառացած երկու հիմնական խնդիրները՝ անվտանգութիւն եւ գաղթականութիւն...

(աւելին)

... of minorities and Christian communities in the

Middle

East

, especially in academic and policy-making circles. As a public intellectual, his research, thinking and projects aim to make heritage identity, ...

NH Hebdo, No. 43, 6 avril 2017

Une élection patriarcale au goût de déjà-vu

par Hratch Tchilingirian

Türkiye'de patrik seçimlerinde déjà vu

Hratch Tchilingirian, Oxford (Çeviri: Serap Güneş)

Türkiye'de yeni Ermeni Patriğinin seçilmesi süreci, geleneksel devlet dayatmaları, idari zorluklar ve Ermeni toplumuna yönelik keyfi muamelelerle karşı karşıya. Durum geçtiğimiz haftalarda Patrikhanedeki üst düzey din adamlarının meseleyi bölücü bir büyük krize dönüştüren şahsi çatışmaları ve hırsları nedeniyle daha da kötüleşti.

Patriarchal Election Déjà Vu in Turkey. Government Meddling in the Election is Inevitable, but Not Decisive

By Dr. Hratch Tchilingirian

The election process of a new Armenian Patriarch in Turkey faces the customary state-imposed restrictions, administrative hurdles and arbitrary treatment of the Armenian community. In recent weeks, the situation has been exacerbated by personality clashes and ambitions of the high ranking clergymen at the Patriarchate, who have turned a problem into a divisive major crisis.

Lecture: Հայ եկեղեցին, հասարակութիւն և քաղաքականութիւն. Խորհրդային ժառանգութեան ազդեցութիւնն ու մարտահրաւէրները», Երևանի Պետական Համալսարան, Մշակութաբանության ամբիոն, Yerevan State University, Dept. of Cultural Studies.

17 November 2016, Yerevan.

Լecture: "Religious Extremism, military conflicts and Christian communities in the Middle East Today", American University of Armenia (AUA), College of Humanities & Social Sciences (CHSS).

17 November 2016, AUA, Yerevan.

... on inter‐ethnic conflicts, diasporas, the

Middle

East

, and the Caucasus. He has published extensively and lectures widely in Europe, the US, and the

Middle

East

(www.hratch.info). Founded in 1991, the ...