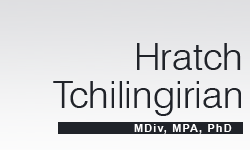 Search
1988 (January-December) Radio Free Europe - Radio Liberty REPORTS on Karabakh, Soviet Armenia and Soviet Azerbaijan, by Elizabeth Fuller and others.

[78 pages, see PDF version]

Hrant Dink, "Why have I been targeted?"

Agos, 12 January 2007

[see PDF version]

"An Appraisal of the Communist Formula 'National in Form, Socialist in Content' with Particular Reference to Soviet Armenia"

Vahakn N. Dadrian

The Armenian Review, Vol. 16, No. 3-63, Autumn, September 1963

[see PDF version]

Azeri President Heidar Aliyev addresses parliament on Karabakhk

23 February, 2001, Azerbaijani TV, Channel One.

[see PDF version]

Azeri and Armenian Sociologists Find Potential for Peacebuilding

Tbilisi, Georgia, July 28,m 2004

www.american.edu/cgp/mpaa/mpindex.html

A joint study by Armenian and Azeri sociologists shows that the people in both countries would support more concerted efforts by their governments to normalize relations and move toward settlement of territorial disputes. The study was designed to determine the possibilities for reconciliation among the people of the two countries.




The Society for Armenian Studies (SAS) held its annual meeting in the Palais des Congrès in Montreal, Canada, in conjunction with the Middle East Studies Association's(MESA) Conference (November 17-21, 2007).

The highlight at the Montreal conference was a panel sponsored jointly by the SAS and the Turkish Studies Association dedicated to the memory of slain Armenian journalist Hrant Dink.

The session titled "On Hrant Dink and Turkish-Armenian Relations" was organized by the presidents of the two associations, Professors Richard Hovannisian of UCLA andAndras Riedlmayer of Harvard. The panel attracted an overflow audience of more than 200 academics, including specialists in Turkish and Armenian studies as well as colleagues from other fields.

After remarks by both organizers, Dr. Hratch Tchilingirian of Cambridge University spoke on "Hrant Dink before Hrant Dink: Armenians in Turkey." He was followed by Dr. Fatma Müge Göçek of the University of Michigan, Ann Arbor, who discussed "Hrant Dink and Turkish-Armenian Dialogue." The third panelist was Professor Levon Zekiyanof Ca' Foscari University in Venice, who assessed "Hrant Dink's Innovative Approach to Armenian-Turkish Relations. Its Context, Challenge and Prospects."

The final presentation was by journalist Etyen Mahçupyan, who now edits Hrant Dink's newspaper Agos, with his reflections on "Agos and the Hrant Dink Foundation: Looking at the Future."

The panel was filled with deep emotion and was received enthusiastically by the large, mixed audience.

Window View of the Armenian Church, Volume IV, Number 3, 1994

The Witness of the Armenian Church in the Diaspora

A Conversation with ARCHBISHOP ARAM KESHISHIAN, Moderator of World Council of Churches and Prelate of the Armenian Church in Lebanon

By Hratch Tchilingirian

Archbishop Aram Keshishian, as Moderator of the Central and Executive Committees of the World Council of Churches, has the highest position within the structure of WCC. The General Assembly of WCC convenes every seven or eight years. The Assembly elects the Central Committee, comprised of 168 members, a Moderator and two Vice-Moderators. The Moderator, the two Vice-Moderators and the General Secretary are the four officers of WCC. Archbishop Keshishian is the author of several books, among them Witness of the Armenian Church in a Diaspora Situation; Concilliar Fellowship; Orthodox Perspective on Mission.

The Treatment of Armenians in the Ottoman Empire: A History of the 'Blue Book'

By David Miller

The British Parliamentary 'Blue Book' on The Treatment of Armenians in the Ottoman Empire (Misc 31 Cmnd 8325, HMSO 1916) is the largest single source of information on what happened to the Turkish Armenians in 1915-16. As such, it provides a focus of controversy between those who claim that it provides evidence of genocide, and those who maintain that because the Blue Book was wartime propaganda, its contents are not to be trusted. Ninety years after publication, the Blue Book is key to the question of whether the massacre and deportation of the Armenians was the result of a deliberate policy of extermination, or the unintended consequence of measures taken against the threat of foreign invasion and civil unrest.

[see PDF version]

see also Turkish National Assembly's letter to the British Parliament regarding the Blue Book, 2005

Patmutyun Aghvanits [History of Aghvank (Caucasian Albania)]

by Bishop Makar Barkhutaryan

Vagharshapat, 1902

[in Armenian, see entire book in PDF version]




This book is the first volume of two studies by Bishop Makar Barkhudariants about Karabakh, which provides valuable historical and ethnographic information about the region. Barkhudariants lived in the 19th century and was originally from Karabakh. He writes about his extensive travels in the regions of historical Aghvank and Artsakh, providing detailed description of the people, their customs, rituals, monuments of historical value , etc. The second volume of his work, the Land of Aghvank and its Neighbours: Artsakh was republished in 1999 by Vem in Yerevan.




GORBACHEV ON KARBAKH
Excerpts from his <Memoirs>


Mikhail Gorbachev, Memoirs. New York and London: Doubleday, 1996.

THE KARABAKH EXPLOSION [pp. 333-340]

In February 1988 the population of the Nagorno-Karabakh autonomous oblast (which was 85-per-cent Armenian) of the Azerbaijan Soviet Socialist Republic demanded that it be made a part of the Armenian Soviet Social Republic. A resolution was passed by the oblast Soviet and immediately supported by thousands of people at demonstrations and meetings in Armenia. These demonstrations were carried out in an organized way, without excesses. The marches carried large posters supporting perestroika and glasnost. Law-enforcement agencies only maintained order, without taking stronger measures—anyway, there was little they could have done against this sea of people.

[see PDF file for more extensive excerpts]

June 2001

The Crisis of Armenian Education in Bulgaria

By Hratch Tchilingirian

The decline of "Armenian education" in Bulgaria and its consequences on preservation of identity is a constant concern of Bulgarian Armenian community leaders. They point out that at least two generations of Armenian Bulgarians have been virtually or completely assimilated due to the closure of Armenian schools during Communism.

Presentation on the occasion of the visit of His Holiness Aram I, Catholicos of the Great House of Cilicia, to the United States

"The Role of the Cilician See in the Third Millennium"

Saturday, October 25, 1997
Watertown, MA, USA

Universita Cattolica del Sacro Cuore

Paper

"Hierarchical Sees of the Armenian Church"

4-8 September 2001

Storia religiosa dell' Armenia

Universita Cattolica del Sacro Cuore

Villa Cognola

Gazzada, Italy

Department of Social Sciences of Humboldt-Universität zu Berlin

Paper

"Restructuring and Transformation of Internal Political Struggles in the South Caucasus," presented at Conference on "Conflict as an Instrument in Internal Political Struggles: Secession Crises in the Post-Soviet Area,"

Supported by Berlin Graduate School of Social Sciences, German Turkish Masters Program in Social Sciences, DAAD and Humboldt-Universität zu Berlin.

2 December 2010

Komitas Vardapet Soghomonian - Autobiography (1908)

Source: "Hairenik" monthly (Boston) 7 May 1924, pp 84-86. Komitas wrote the autobiography in June 1908 at Holy Etchmiadzin, Armenia. Translated by Hratch Tchilingirian from the original Armenian.

Perspective of the Diaspora Ministry of Armenia on the Armenian Armenian Church, 28 January 2009

Aztag Daily (Beirut) 14 August 2004

The Challenges Facing the Armenian Church. An Interview with Hratch Tchilingirian

by Khatchig Mouradian

"The Armenian Church hides, under its each and every stone, a secret path ascending to the heavens", wrote the famous Armenian poet, Vahan Tekeyan. Yet, the Armenian Church is more than a religious institution that has acted as a "mediator" between Armenians and their God. Having survived the shifting tides of time for more than seventeen centuries, this "unique organization", as Professor Hratch Tchilingirian calls it in this interview, has served its people as much as, if not more than, it has served God. Today, in the age of globalization, secularization and false crusades, the Armenians - despite their constant boasting about having the oldest Christian state in the world - are also following this global trend, by gradually distancing themselves from established religious institutions and, at times, looking for spiritual answers elsewhere.

Ազդակ (Aztag, Beirut) 14 August 2004

Այսօրուան Աշխարհին մէջ Հայ Եկեղեցւոյ Առաքելութիւնը Յստակ չէ Բանաձեւուած

[The Mission of the Armenian Church in Today's World is not Clear]

Ազդակ (Aztag) 7 August 2004, p. 6

«Ղարաբաղ Տէ Ֆաքթօ Մաս կը կազմէ Հայաստանին»

Aztag Daily (Beirut), 7 August 2004

South Caucasus: A war-zone or a place for holidays?

An Interview with Hratch Tchilingirian

by Khatchig Mouradian

`Abkhazia is not a place for holidays...it is a war zone,' said Georgian leader Mikhail Saakashvili earlier this month, threatening to sink foreign (implicitly understood as Russian) ships that enter the region without permission from his government. His comments came as tensions escalated between the central authorities of Georgia and two of its breakaway regions, South Ossetia and Abkhazia, which Saakashvili has promised to win back. Saakashvili's pronouncements on South Ossetia and Abkhazia have been furiously opposed by Moscow, whose relations with Georgia have plummeted from bad to worse since a `rose revolution' brought pro-western Saakhasvili to power.