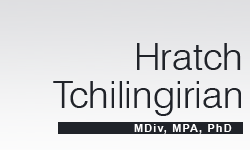 Search
Invited discussant/participant, "Apologies for Historical Wrongs: When, How, Why", a workshop on comparative study of Caribbean slavery, 'Bloody Sunday' in Northern Ireland, and Ottoman pogroms; the gathering was part of a larger research project led by A. Anim-Addo, University of Leeds; M. Braniff, Ulster University; A. Sarvarian, University of Surrey.

15 May 2015, Derry City, Norther Ireland.

Resonance FM 104.4 (London) "Clear Spot" program on Armenian Music, presented by Diana Mavroleon and Nouritza Matossian with guest Hratch Tchilingirian. The story of rich Armenian music which has not only survived the state-implemented genocide of the Armenians in the Ottoman Empire during WWI, but has defiantly flourished into the 21st century. Broadcast live on 11 June 2015 (8-9pm) and rebroadcast on 12 June 2015 (9-10 am).

Lecture, "Armenia from the Russian expansion in the Caucasus to the 21st century". This was part of a four-lecture Armenian History Course offered by the Armenian Institute in collaboration with Oxford Armenian Studies.

26 March 2015, Armenian Institute, London

Հրաչ Չիլինգիրյան (2015) «Միջին Արեվելքի Հայկական Համայնքները Պարտադրված և Անորոշ Ապագայի Միջեվ», Վերլուծական տեղեկագիր, հ. 7 Երեվանի Պետական Համալսարան, Քաղաքակրթական և մշակութային հետազոտությունների կենտրոն, էջ 217-248: [Hratch Tchilingirian (2015) "Armenian Communities in the Middle East", Analytical Journal, No. 7. Yerevan State University, Centre for Civilisation and Cultural Studies, pp. 217-248.]

London Student - 13 March 2015 - 5:21pm by Colin Cortbus

".... Event organiser Hratch Tchilingirian emphasised that the event was aimed to foster civic culture and reconciliation: "We wanted to emphasize the essential human and moral dimensions of the societal rupture that genocide causes and the process of reconciliation through living culture"...

Vahakn N. Dadrian, "The Events of April 24 in Moscow - How they Happened and Under What Circumstances", The Armenian Review, Summer, 1967.

(article in PDF)

""Armenians in 2115" Strategy Seminar at the Calouste Gulbenkian Foundation

The Armenian Communities Department of the Calouste Gulbenkian Foundation hosted a unique two-day seminar for Armenian leaders to discuss future scenarios. The gathering was a high-level forum where forward-looking strategic discussions took place in a private, invitation-only environment. It was held on 13-14 October 2014.

Hratch Tchilingirian made a presentation on the prospects of the Armenian communities in the Middle East, entitled "To Stay or Not to Stay? The Question of the Century for Armenian communities in the Middle East".

See MassisPost

University of Fribourg

Invited speaker: "Religion, Nation and Democracy in the South Caucasus", organised by Academic Swiss Caucasus Net (ASCN)

14 November 2014

Conference programme




National Academy of Sciences, Yerevan

Paper: "Modernity and Secularization of the Armenian Church", Society for Armenian Studies, 40th
Anniversary Conference.

5 October 2014

Christianity in the Contemporary Middle East - The Life and Death of a Tradition? Conference hosted by the Las Casas Institute, Blackfriars Hall, Oxford, in association with the Centre for Eastern Christianity, Heythrop College, University of London

Invited Speaker: "Armenian Christianity in the Middle East: modern history and contemporary challenges"

1 November 2014, Blackfriars Hall, University of Oxford

Conference programme & synopsis

Invited Speaker: "To Stay or Not to Stay? The Question of the Century for Armenian communities in the Middle East"

Part of "Armenians in 2115" Strategy Seminar organised by the Calouste Gulbenkian Foundation's Armenian Communities Department in Lisbon, 13 October 2014.

... challenges of the Soviet legacy in Armenia and the

Diaspora

Dr Hratch Tchilingirian, Oriental Institute, University of Oxford Dates and Topics 04 November: Introduction to the

Armenian

Church: Past ...

School of Oriental and African Studies, University of London

19 May 2014

The Centre of World Christianity, Dept for the Study of Religions, SOAS hosted on Monday 28th April, 2014 a Workshop, 'Christians in Syria and Iraq today: facing the challenges' to explore the realities of the Christian communities in Syria and Iraq. Six speakers presented a rich spread of papers, chaired by Dr. Erica C. D. Hunter.

The closed workshop was attended by Dr. Hratch Tchilingirian (University of Oxford), Mar Polycarpus (Metropolitan and Arch Vicar of the Netherlands, Syrian Orthodox Church), Dr. Naures Atto (University of Cambridge), Father Dr. Behnam Sony (St. Ephrem's Seminary, Karakoche, Iraq), Dr. Suha Rassam (Iraqi Christians in Need), and Dr. Anthony O'Mahony (Heythrop College). All participants presented and openly discussed papers pertaining to the current situation of Christians in Iraq and Syria under present conditions.

A detailed summary of the presented papers and the workshop can be found in the Report of Workshop Christians in Syria and Irac Today: Facing the Challenges.

Chatham House, Russia and Eurasia Programme

Invited speaker, "Turkey-Armenia Relations in 2015: Thaw or Freeze"; the Royal Institute of International Affairs, London

26 June 2014

Programme

Sheffield Hallam University

Paper: "Diaspora's 'Natives' or Native 'Diaspora'? Research and methodological questions regarding the study of Islamized Armenians in Turkey," at Armenian-Turkish Studies Workshop, Sheffield.

9 June 2014

Sheffield Workshop Programme

St. Anne's College, University of Oxford.

Middle East Studies, School of Interdisciplinary Area Studies

International Conference: Global Conflict and Conflict Management: Israel/Palestine and Beyond

Paper: "Living with Injustice and Denial: Turkish-Armenian relations on the threshold of the centenary of the Armenian Genocide in the Ottoman Empire"

18-19 May 2014

Conference Programme

Conference on the Mediterranean, organised by the Centre for Mediterranean Studies and Diaspora Studies at Ruhr-Universitat Bochum, 27-29 March 2014.

... կոնֆերանսին բանախոսելու է 28 գիտնականՙ աշխարհի տարբեր գիտական կենտրոններից: Այդ թվում նաեւՙ Փաուլ Սիլվերսթայնը (Պորտլանդ), Հրաչ Չիլինգիրյանը (Օքսֆորդ), որի ուշադրության առանցքում հայերն են «Բնիկ եւ սփյուռքացած.