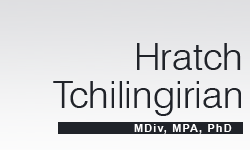 Search
An exercise in disinformation: linking Kurds to NKR

Armenian Reporter [Paramus, NJ] 02 Aug 2008: A4-A5.

Yelena Osipova & Emil Sanamyan

WASHINGTON - Turkish and Azerbaijani officials have frequently sought to link Armenians to the Kurdish resistance in Turkey, typically referred to as the Kurdistan Workers' Party (pkk). But they have provided little to no evidence to substantiate such linkages. These allegations made a comeback between last October and earlier this year at a fairly high level and with all the hallmarks of an organized disinformation campaign. This analysis seeks to deconstruct the chronology of this effort aimed against Armenia.

"Pursuit of 'terrorists' or the presence of terrorists in a given territory has been used as pretext by states around the world for military operations," Hratch Tchilingirian of the University of Cambridge told the Armenian Reporter via e-mail.

A Tortured Priest Rests in Peace; In Memory of Fr. Manuel Yergatian

Armenian Reporter International [Paramus] 21 Feb 2004: 22.

Hratch Tchilingirian

The Very Rev. Fr. Manuel Yergatian, the pastor of the Armenian Church in the Netherlands, passed away on February 11, 2004 at the young age of 50. He was a member of the St. James Brotherhood of the Armenian Patriarchate of Jerusalem. In 1980, the life of this energetic priest, who was full and contagious enthusiasm, changed irretrievably. He was in the wrong place at the wrong time. A citizen of Turkey, he was arrested in October 1980 at Istanbul airport while en route to Jerusalem. He was only 33 years old at the time. Fr. Manuel was charged with anti-Turkish activities in the years when various acts of political violence against Turks by Armenians were taking place.

1700th Anniversary Executive Committee Meets in Armenia; Plans Pilgrimages to Begin in 1997 and Extend Till 2001

Armenian Reporter International [Paramus] 21 Dec 1996: 26.

ETCHMIADZIN, Armenia The Executive Committee of the 1700th Commemoration of Christian Armenia met for two days on October 24 and 25, in order to hear reports and examine the progress since the committee's last meeting in August.

Catholicos Karekin opened the meeting, reiterating the basic goals of the committee, and Catholicos Aram expressed his blessings and best wishes. Archbishop Mesrob Ashjian, executive secretary of the committee, introduced the basic plans for the organization of pilgrimages, after which Archbishop Hovnan Derderian, Primate of Canada, presented a report prepared by the committee overseeing pilgrimages. The meeting was chaired by Archbishop Karekin Nercessian, Primate of the Araratian Diocese, and recorded by Deacon Hratch Tchilingirian.

Extensive discussion led by Archbishop Derderian, Deacon Tchilingirian, and Dr. Shahe Orfaly, on how to motivate young people to participate in the pilgrimages, ensued. Pilgrimages are being planned for three specific age groups, 18 to 30 years; 30 to 45 years; and 45 and up. All participants will be responsible for their own expenses. However, it was noted that individuals who cannot participate because of age or health can nevertheless "participate" by sponsoring a pilgrim.

Literary Dialogue with Poet Anoush Nakashian

Armenian Reporter International [Paramus] 04 July 1997: 16.

A literary dialogue with poet Anoush Nakashian of Jerusalem was held here last week. The event was organized by Tekeyan Cultural Association to present the newly published Rainy Love, Nakashian's third volume of collected poems. Throughout the "Dialogue," 36-year-old Nakashian's personal reflections and literary interpretations were enriched with her captivating poetry recitations. Hratch Tchilingirian, a scholar and analyst of contemporary Armenian affairs, was the host of the evening. He was introduced by Alex Kalayjian.

Armenian Reporter International [Paramus] 06 June 1998: 12.

Entrepreneurs Report on Socio-Economic Conditions in Armenia at NAASR

Economic conditions in Armenia since the fall of the Soviet Union and Armenia's prospects for future economic development were discussed at length during a recent gathering of entrepreneurs from Armenia. The May 7 event, "Armenia In Transition: Socio-economic Conditions and Business Opportunities," was co-sponsored by the National Association for Armenian Studies and Research and the Cambridge-Yerevan Sister Cities Association (CYSCA) and took place at NAASR's Center and Headquarters here.

Hratch Tchilingirian opened the program with an overview of conditions in Armenia since it gained independence. He pointed out what a pleasure it is to be hearing "some of the success stories" of the Armenian economy, as represented by the seven panel members, instead of the all too common litany of conflicts, disasters, and shortages. He then briefly outlined some of the obstacles which have interfered with the growth of the Armenian economy.

Armenian Reporter International [Paramus] 29 Dec 2001: 19.

Hratch Tchilingirian Lectures on the Armenian-Azerbaijani Conflict at Haigazian University

Hratch Tchilingirian, a Ph.D. candidate in sociology at the London School of Economics and Political Science, gave a public lecture about the Armenian-Azerbaijani conflict in the Haigazian University auditorium. The lecture, organized by the university's Department of American Studies, was held on Tuesday, December 11, 2001.

Eternal Rest: Patriarch Ignatius IV of Antioch

Hratch Tchilingirian

12 December 2012

One of the longest serving Orthodox Christian leaders in the Middle East, Patriarch Ignatius IV (Hazim) of Antioch and All the East passed away at the age of 92 on 5 December 2012 in Beirut. His death comes at a time when Christians in the Middle East from Iraq to Egypt and Syria are facing formidable security, political and socio-economic challenges.

90th Anniversary of St Sarkis Church, London

This short documentary is the story of how in 1923 Armenians in London with the help of philanthropist Calouste Gulbenkian built a place of worship and communal gathering as one of the first steps towards re-building their lives after the virtual annihilation of the Armenian people in the Ottoman Empire, the first genocide of the 20th century. The Armenian Church in the UK, St. Sarkis Church Trust and St. Sarkis Church Parish celebrated the 90th Anniversary of the first Armenian Church in London with a series of educational, cultural and social events between September 2012 and January 2013. Hratch Tchilingirian is Hon. President of St. Sarkis Church Trust and headed the 90th Anniversary celebrations.

Azeri and Armenian Sociologists Find Potential for Peacebuilding

Tbilisi, Georgia, July 28,m 2004

www.american.edu/cgp/mpaa/mpindex.html

A joint study by Armenian and Azeri sociologists shows that the people in both countries would support more concerted efforts by their governments to normalize relations and move toward settlement of territorial disputes. The study was designed to determine the possibilities for reconciliation among the people of the two countries.

Window View of the Armenian Church, Volume IV, Number 3, 1994

The Witness of the Armenian Church in the Diaspora

A Conversation with ARCHBISHOP ARAM KESHISHIAN, Moderator of World Council of Churches and Prelate of the Armenian Church in Lebanon

By Hratch Tchilingirian

Archbishop Aram Keshishian, as Moderator of the Central and Executive Committees of the World Council of Churches, has the highest position within the structure of WCC. The General Assembly of WCC convenes every seven or eight years. The Assembly elects the Central Committee, comprised of 168 members, a Moderator and two Vice-Moderators. The Moderator, the two Vice-Moderators and the General Secretary are the four officers of WCC. Archbishop Keshishian is the author of several books, among them Witness of the Armenian Church in a Diaspora Situation; Concilliar Fellowship; Orthodox Perspective on Mission.

The Treatment of Armenians in the Ottoman Empire: A History of the 'Blue Book'

By David Miller

The British Parliamentary 'Blue Book' on The Treatment of Armenians in the Ottoman Empire (Misc 31 Cmnd 8325, HMSO 1916) is the largest single source of information on what happened to the Turkish Armenians in 1915-16. As such, it provides a focus of controversy between those who claim that it provides evidence of genocide, and those who maintain that because the Blue Book was wartime propaganda, its contents are not to be trusted. Ninety years after publication, the Blue Book is key to the question of whether the massacre and deportation of the Armenians was the result of a deliberate policy of extermination, or the unintended consequence of measures taken against the threat of foreign invasion and civil unrest.

[see PDF version]

see also Turkish National Assembly's letter to the British Parliament regarding the Blue Book, 2005

Aztag Daily (Beirut) 14 August 2004

The Challenges Facing the Armenian Church. An Interview with Hratch Tchilingirian

by Khatchig Mouradian

"The Armenian Church hides, under its each and every stone, a secret path ascending to the heavens", wrote the famous Armenian poet, Vahan Tekeyan. Yet, the Armenian Church is more than a religious institution that has acted as a "mediator" between Armenians and their God. Having survived the shifting tides of time for more than seventeen centuries, this "unique organization", as Professor Hratch Tchilingirian calls it in this interview, has served its people as much as, if not more than, it has served God. Today, in the age of globalization, secularization and false crusades, the Armenians - despite their constant boasting about having the oldest Christian state in the world - are also following this global trend, by gradually distancing themselves from established religious institutions and, at times, looking for spiritual answers elsewhere.

Aztag Daily (Beirut), 7 August 2004

South Caucasus: A war-zone or a place for holidays?

An Interview with Hratch Tchilingirian

by Khatchig Mouradian

`Abkhazia is not a place for holidays...it is a war zone,' said Georgian leader Mikhail Saakashvili earlier this month, threatening to sink foreign (implicitly understood as Russian) ships that enter the region without permission from his government. His comments came as tensions escalated between the central authorities of Georgia and two of its breakaway regions, South Ossetia and Abkhazia, which Saakashvili has promised to win back. Saakashvili's pronouncements on South Ossetia and Abkhazia have been furiously opposed by Moscow, whose relations with Georgia have plummeted from bad to worse since a `rose revolution' brought pro-western Saakhasvili to power.

... Armenia's side, with even more organized and unified fashion. We should bear in mind that for ten years the people of Armenia has seen blockades,

cold

years, economic devastation, so on; it is normal that ...

Aztag, in Armenian

Ararat, in Armenian

Armenian Reporter Internatinal [Paramus] 21 Aug 2004: 25.

Dr. Hratch Tchilingirian lectured recently at Haigazian University on "The Armenian Community of Abkhazia."

Tchilingirian described the overall situation in Abkhazia, which lies on the northeastern shores of the Black Sea and has a territory of 8,600 sq km. Abkhazia was an autonomous republic within Georgia during the Soviet period. With its wonderful climate and developed infrastructure for tourism, it was considered the "Riviera" of the Soviet Union. Successive Soviet leaders from Stalin onwards had their summer resorts in Abkhazia. About 1.5 million tourists visited Abkhazia annually in Soviet times, when its total population was only half a million. Agriculture was also a very successful sector of the economy, and Abkhazia had one of the highest GDPs in the Soviet Union.

eNewsletter, 26 August 2011

DR. HRATCH TCHILINGIRIAN LECTURES AT THE CATHOLICOSATE OF CILICIA

Aztag, in Armenian

Zartonk, in Armenian

The Department of the Study of Religions, School of Oriental and African Studies, University of London

Lecture Series: Relations between the Churches, west, east and oriental

Lecture

War and Ecumenism: the case of Nagomo Karabakh

26 January 1996 at 6 p.m. in Brunei Gallery

School of Oriental and African Studies (SOAS), University of London

Hrant Dink (1954-2007) A memorial tribute

Hosted by the Turkish Studies at SOAS and the Armenian Studies Group (ASG), SOAS

Speakers:

Dr Kerem Oktem (European Studies Centre, Oxford University)

Dr Hratch Tchilingirian (Judge Business School, Cambridge University)

Maureen Freely (Writer and translator, University of Warwick)

12 February 2007




International Institute for Strategic Studies (IISS), London

Speaker

Nagorno-Karabakh Conflict: Prospects for Peace

Panel 5: Prospects for Peace: Where do zve go from here?

- Tom de Waal, Institue for War and Peace Reporting
- Hratch Tchilingirian, Cambridge University
- Leyla Aliyeva, Independent analyst

Chair: Jonathan Cohen, Conciliation Resources

24 September 2007

Այժմ (Ayzhm, Yerevan), 4-6 May 1997

«Տեղեկատվական Պատերազմ. Նրանք եվ Մենք» (Information war in the Caucasus).