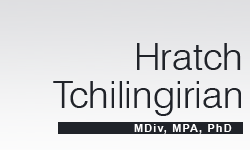 Search
Lecture: "The 'Other' Citizens – Armenians in Turkey between Isolation and (dis)Integration", American University of Armenia (AUA), Political Science & International Affairs (PSIA).

15 November 2016, AUA, Yerevan

Panel speaker: "European Identity in the Times of Post-Truth Politics", held at the London School of Economics and Political Science, organised by LSESU European Society and The Youth Association for a Greater Europe.

23 February 2017, LSE


... cultural and

political

propaganda. This long-standing tradition could not be quickly fixed by processes of democratisation, leaving the seeds of post-truth agenda in fertile grounds in those countries ...
... diaspora, in my view, is primarily seven organizations: the three churches (Apostolic, Catholic, Evangelical); the three

political

parties

(SDHP, ARF, ADL), and AGBU. The rest of the structures in the ...
... (sociology) դոկտորական կոչումը Լոնտոնի Տնտեսագիտութեան ու Քաղաքագիտութեան համալսարանէն (London School of Economics &

Political

Science): Տասը տարի պաշտօնավարած է Գեմպրիճ Համալսարանի ::/introtext:: ...

Հայաստանի ներքաղաքական հարցերում առավել արդյունավետ կարող է ներգրավվել «հայաստանյան» սփյուռքը

1in.am 12.08.2016

«Առաջին լրատվական»-ը զրուցել է Օքսֆորդի համալսարանի սոցիոլոգիայի ամբիոնի դասախոս, սփյուռքագետ Հրաչ Չիլինկիրյանի հետ:

– Պարոն Չիլինկիրյան, Ձեր կարծիքով՝ հուլիսի 17-ին Երևանի սրտում սկսված իրադարձությունները ի՞նչ էին, ինչի՞ հետևանք էին։

– Հայաստանն իր անկախության 25 տարիների ընթացքում, սկզբում ունենալով դրական զարգացումներ, հետագայում շատ բացասական և ոչ նպաստավոր զարգացումներ ունեցավ ինչպես ներքին կյանքում, այնպես էլ արտաքին աշխարհում։ Ներքին կյանքում հատկանշական են ոչ արդար, ոչ ժողովրդավարական ընտրությունների անցկացումն ու այլ բազում հարցեր։ Եվ այսօր, ինչպես տեսնում ենք, Հայաստանում շարունակվում են այդ բացասական երևույթները։ Տեղի ունեցած իրադարձությունները թերևս այնքան էլ անսպասելի չէին։ Սա նշանակում է, որ 25 տարվա ընթացքում չենք կարողացել կառուցել այնպիսի երկիր, որ այդ անկախության 25-ամյակը հպարտությամբ տոնենք։ Սա բոլորիս համար մեծ ցավ է և մեծ բացասական երևույթ։

... ու Քաղաքագիտութեան համալսարանէն (London School of Economics &

Political

Science): Տասը տարի պաշտօնավարած է Գեմպրիճ Համալսարանի մէջ եւ 2012-էն ի վեր Օքսֆորտ համալսարանի Արեւելագիտութեան բաժնին մէջ Արեւելքի ...
...  The main purpose was to explore the issue of vitality of Western Armenian in the 21st century. There are many

political

and socio-economic realities and circumstances imposed, willingly or unwillingly, ...
... 21st century? This is an important question that needs serious discernment. Theological and

Political

issues Theologically, now that the victims of the Genocide have been canonized, ...
... Parliament and Executive Board Member of the Azerbaijani Community of the Nagorno Karabakh Region, and Kavus Abushov, Assistant Professor of

Political

Science, ADA University, Baku. 29 September 2015, The ...
... at least in the last two centuries, empires were defeated, territories expanded and changed, entire populations moved from one place to another, new "nations" created — and where a host of

political

"experiments" ...
... | Hratch Tchilingirian, Cambridge The end of the Soviet Union triggered major

political

, ideological, territorial, military, economic, social and cultural transitions in a vast geographic area, which ...
... "

political

ly correct" definitions, expectations and interpretations of "who is an Armenian"; on the other hand, new self-defined and actualised "Armenian identities" are prevalent among post-genocide third ...
... and Present 11 November: The Soviet Regime and the Decline of the Church and Religion 18 November: The Soviet Regime and the 'Secularisation' of the Church 25 November: Post-Soviet Social and

Political

 ...
... which give a general view of the state of the church and religion in the post-Soviet Republic of Armenia. There are conversations with the Catholicos of All Armenians, representatives of

political

 ...
... geo

political

history, characterised on one side by Ottoman Turkey's genocide of the Armenians during World War I, and bitter wrangling with Azerbaijan over the Nagorno-Karabakh territory on the other.  ...
... the chronology of this effort aimed against Armenia. Background Allegations linking Armenia to Kurdish

political

activism in Turkey are not new. Azerbaijan's motivation for this is to win and maintain ...
... times" because the conflicts in this region did not start in 1991, at the end of the Soviet Union. If we take the last 200 years - 1813-1992 to be exact - there has been a

political

or military conflict ...
... of

political

violence against Turks by Armenians were taking place. ::/introtext:: ::fulltext::A Tortured Priest Rests in Peace; In Memory of Fr. Manuel Yergatian Armenian Reporter International [Paramus] ...
... economy." In order to do this, Armenia must demonstrate

political

stability, the ability to move capital freely, a willingness to combat corruption and, perhaps most of all, a clear sense that foreign ...