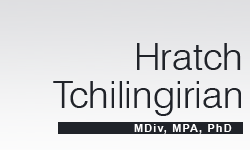 Search
... (Պատրիարքութիւն Հայոց Կոստանդնուպոլսոյ)—the reference to the ancient capital of Byzantium is a taboo and considered a

political

ly charged term. Indeed, a few months before his election, a Turkish television ...
... leans west

political

ly, after surviving war in Syria, was jarring. "Although I knew Armenian, I couldn't understand when people were saying to me. They were using so many Russian words and expressions ...
... recover from ongoing military and

political

conflict? A Hundreds of thousands of Christians have left the Middle East, including tens of thousands of Armenians, resulting in a critical brain drain. ...
... is also, however, a wealth of legal,

political

, archeological, financial, and art history expertise available to help the Patriarchate maximize the value of its real estate, museums and libraries. Among ...
... University of London, 23 May 2018. Speakers Dr Armine Ishkanian, Dr Hratch Tchilingirian and Dr Ara Sanjian discussed the internal

political

and social dynamics of recent events, the new era of relations ...
... conference is sponsored by Mr. and Mrs. Harry and Cheryl Nadjarian. The conference will critically examine new interpretations, paradigms, and narratives about the

political

, social, economic and cultural ...
... conflicts in the Caucasus does not adequately explain why ethnic groups struggle for independence. This sociological study argues that when social and

political

restructuring is resisted or ignored by ...
... Instead, Armenia is visible through its oligarchs — a small number of people who have

political

, economic, social and even cultural and religious power that survives through unquestioned loyalty, public ...

Lecture: "The 'Other' Citizens – Armenians in Turkey between Isolation and (dis)Integration", American University of Armenia (AUA), Political Science & International Affairs (PSIA).

15 November 2016, AUA, Yerevan

Panel speaker: "European Identity in the Times of Post-Truth Politics", held at the London School of Economics and Political Science, organised by LSESU European Society and The Youth Association for a Greater Europe.

23 February 2017, LSE


... cultural and

political

propaganda. This long-standing tradition could not be quickly fixed by processes of democratisation, leaving the seeds of post-truth agenda in fertile grounds in those countries ...
... diaspora, in my view, is primarily seven organizations: the three churches (Apostolic, Catholic, Evangelical); the three

political

parties

(SDHP, ARF, ADL), and AGBU. The rest of the structures in the ...
... (sociology) դոկտորական կոչումը Լոնտոնի Տնտեսագիտութեան ու Քաղաքագիտութեան համալսարանէն (London School of Economics &

Political

Science): Տասը տարի պաշտօնավարած է Գեմպրիճ Համալսարանի ::/introtext:: ...

Հայաստանի ներքաղաքական հարցերում առավել արդյունավետ կարող է ներգրավվել «հայաստանյան» սփյուռքը

1in.am 12.08.2016

«Առաջին լրատվական»-ը զրուցել է Օքսֆորդի համալսարանի սոցիոլոգիայի ամբիոնի դասախոս, սփյուռքագետ Հրաչ Չիլինկիրյանի հետ:

– Պարոն Չիլինկիրյան, Ձեր կարծիքով՝ հուլիսի 17-ին Երևանի սրտում սկսված իրադարձությունները ի՞նչ էին, ինչի՞ հետևանք էին։

– Հայաստանն իր անկախության 25 տարիների ընթացքում, սկզբում ունենալով դրական զարգացումներ, հետագայում շատ բացասական և ոչ նպաստավոր զարգացումներ ունեցավ ինչպես ներքին կյանքում, այնպես էլ արտաքին աշխարհում։ Ներքին կյանքում հատկանշական են ոչ արդար, ոչ ժողովրդավարական ընտրությունների անցկացումն ու այլ բազում հարցեր։ Եվ այսօր, ինչպես տեսնում ենք, Հայաստանում շարունակվում են այդ բացասական երևույթները։ Տեղի ունեցած իրադարձությունները թերևս այնքան էլ անսպասելի չէին։ Սա նշանակում է, որ 25 տարվա ընթացքում չենք կարողացել կառուցել այնպիսի երկիր, որ այդ անկախության 25-ամյակը հպարտությամբ տոնենք։ Սա բոլորիս համար մեծ ցավ է և մեծ բացասական երևույթ։

... ու Քաղաքագիտութեան համալսարանէն (London School of Economics &

Political

Science): Տասը տարի պաշտօնավարած է Գեմպրիճ Համալսարանի մէջ եւ 2012-էն ի վեր Օքսֆորտ համալսարանի Արեւելագիտութեան բաժնին մէջ Արեւելքի ...
...  The main purpose was to explore the issue of vitality of Western Armenian in the 21st century. There are many

political

and socio-economic realities and circumstances imposed, willingly or unwillingly, ...
... 21st century? This is an important question that needs serious discernment. Theological and

Political

issues Theologically, now that the victims of the Genocide have been canonized, ...
... Parliament and Executive Board Member of the Azerbaijani Community of the Nagorno Karabakh Region, and Kavus Abushov, Assistant Professor of

Political

Science, ADA University, Baku. 29 September 2015, The ...
... moved from one place to another, new "nations" created — and where a host of

political

"experiments" were conducted. I would like to offer two observations that I believe are important to our discussions ...

Security Issues in Eurasia

Hratch Tchilingirian | 26 September 2004

The end of the Soviet Union triggered major political, ideological, territorial, military, economic, social and cultural transitions in a vast geographic area, which has come to be known as Eurasia. This resource rich and increasingly significant region extends from eastern China to the borders of Europe and the Middle East.