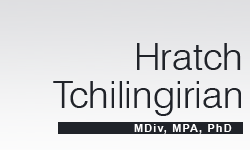 Search
NB Hebdo, N° 143 – 14 mars 2019: 5-6.

In memoriam : le patriarche Mesrob Moutafian (1956-2019)

Par Hratch Tchilingirian

Le patriarche Mesrob Moutafi an était l'un des hommes d'église les plus courageux, les plus intègres et les plus inspirés de l'histoire contemporaine de l'Église arménienne. Sa jeunesse, son charisme, son





A decade-long goodbye for a journey cut short

In Memoriam: Patriarch Mesrob Mutafyan (1956-2019)

Hratch Tchilingirian | CivilNet.am 10 March 2019

Patriarch Mesrob Mutafyan was one of the most courageous, principled and forward looking church leaders in the contemporary history of the Armenian Church. His youth, charisma, strong pastoral and

... worship in

peace

despite ongoing conflicts. "In the coming months and years, the situation of the Armenians in Jerusalem and the Patriarchate in particular might become even more critical, especially ...
... and Ethno-Religious Mobilisation in the Middle East, convened by Dr Alex Henley, Dr Ceren Lord, Dr Hiroko Miyokawaunder, under the auspices of Pembroke College, the Sasakawa

Peace

Foundation, the ...

Hratch Tchilingirian, Karabakh and Abkhazia. The Struggle for Independence in the post-Soviet South Caucasus. London: Sandringham House, 2003.

NH Hebdo (Paris), N° 66 - 21 septembre 2017, pp. 7-8

Les Arméniens peuvent-ils subsister en tant que nation globale, alors que leur patrie est mal en point ?*

Par Hratch Tchilingirian

Ces dernières années, un nouveau discours sur les « Arméniens globaux » a fait son apparition, avec l'intention de construire une identité arménienne post-génocide dans la diaspora et en Arménie. Cette nouvelle identité se veut être un vecteur permettant de passer de la « mentalité de survie » à la célébration de la vie et du succès. Dans une lettre

... goals of this prescriptive "global Armenianism" is "to transform the post-Soviet Armenian Republic into a vibrant, modern, secure,

peace

ful and progressive homeland for a global nation." This is, ...

Massis Weekly, 10 July 2017

GLENDALE – University of Oxford scholar, Dr. Hratch Tchilingirian will be in town to present a special illustrated talk titled, Precarious Citizens: Christian Communities in Turkey Today on Tuesday , July 18, 2017 at 7:30pm at Abril Bookstore – 415 E. Broadway, Glendale, CA. Scholar will be introduced by Mark Chenian. Admission is free.


Patriarchal Election Déjà Vu in Turkey. Government Meddling in the Election is Inevitable, but Not Decisive

By Dr. Hratch Tchilingirian

The election process of a new Armenian Patriarch in Turkey faces the customary state-imposed restrictions, administrative hurdles and arbitrary treatment of the Armenian community. In recent weeks, the situation has been exacerbated by personality clashes and ambitions of the high ranking clergymen at the Patriarchate, who have turned a problem into a divisive major crisis.

LSESU European Society, 3 March 2017

On Thursday February 23rd, the Youth Association for a Greater Europe and the LSESU European Society invited students and public for a panel discussion on 'European Identity in the Times of Post-Truth Politics' at the LSE. Our speakers – Roger Casale, founder of New Europeans and former MP for Wimbledon, and Dr Hratch Tchilingirian, member of the Faculty of Oriental Studies

CivilNet, 10 March 2017 10:19

Oxford University scholar Hratch Tchilingirian has published an article entitled "The 'Other' Citizens: Armenians in Turkey Between Isolation and (Dis)integration."

Since the establishment of the Turkish Republic, state discrimination against the Armenian community—and generally the non-Muslim minorities—has been institutionalized and systematically

Hratch Tchilingirian (2016) "The 'Other' Citizens: Armenians in Turkey Between Isolation and (Dis)integration", Journal of the Society for Armenian Studies, Vol. 25, 2016: 123-155.


Since the establishment of the Turkish Republic, state discrimination against the Armenian community—and generally the non-Muslim minorities—has been institutionalized and systematically used towards the detriment of the target community. This article provides a discussion of these issues and the processes of state and societal 'othering' of the Armenians in Turkey, with a particular focus on the impact of such policies and public discourses on the current situation of the community. It then provides an analysis of the internal dynamics of the Armenian community itself. The discussion highlights several sociological concepts that are useful to the understanding and analysis of the Turkish state's and society's treatment of the Armenians in Turkey today—or what the economists would call the stresses and distortions in the system.

CivilNet, 22 December 2016

The Diaspora is Primarily Seven Organizations

Dr. Hratch Tchilingirian, a scholar and lecturer at the Oriental Institute of the University of Oxford - specializing in Eastern Christianity and Armenian Studies - spoke to CivilNet about the current Armenia-Diaspora relations.

Hratch Tchilingirian (2016) "L'Eglise arménienne pendant la guerre froide : la crise Etchmiadzine-Antelias", NH Hebdo, 9 Juin.

l'Eglise Arménienne, en tant qu'institution religieuse, a été affectée à des fonctions « laïques » ou civiles pour « conduire la nation », alors que le clergé était devenu un agent et un médiateur mandatés par l'Etat entre les dirigeants, les gouvernements et les intérêts politiques. Dans le même temps, la société arménienne, en Arménie comme dans la diaspora, avait traversé un processus de sécularisation du fait d'un rationalisme et d'une modernité émergents, ce qui s'est traduit par le capitalisme, l'industrialisation et l'Etat-Nation. Ces développements historiques ont conduit l'Eglise arménienne à une sécularisation.




Constructing Reality: scholarship and policy on post-independence Caucasus

Hratch Tchilingirian | 12 November 2013

This observation of an Abkhaz social worker captures the general frustration of "outsiders" with the Caucasus. I would add that the "frustration" is not only or necessarily on the empirical level, but about the changing shades of the "picture" formulated about the region by outsiders.

Security Issues in Eurasia

Hratch Tchilingirian | 26 September 2004

The end of the Soviet Union triggered major political, ideological, territorial, military, economic, social and cultural transitions in a vast geographic area, which has come to be known as Eurasia. This resource rich and increasingly significant region extends from eastern China to the borders of Europe and the Middle East.

Armenian Church News, Vol. 1, Issue 3, 25 July 2015

Another Successful Armenian Street Festival

The Fifth Armenian Street Festival was held on Sunday, 19th July, on the grounds of St. Sarkis Church in Iverna Gardens, Kensington. The beautiful sunny morning started with celebration of the Divine Liturgy, Badarak, followed by the traditional process of Antasdan, the service of the blessing of the four corners of the world.

At the formal opening of the Street Festival, Dr Hratch Tchilingirian welcomed everyone on behalf of the Armenian Church of St Sarkis and the Diocese of the Armenian Church of the United Kingdom and Ireland, and then introduced the new Primate. "On this gloriously bright day, we also have a special occasion to celebrate: the beginning of the tenure of our new Primate, His Brace Bishop Hovakim Manukyan, who formally started his mission a week ago." Dr Tchilingirian highlighted the new Primate's qualities and underlined: "Bishop Hovakim brings with him the warmest spirit of ....

New 'software' is needed for Armenian identity in the 21st century

Hratch Tchilingirian | 14 December 2014

Հրաչ Չիլինգիրյան (2015) «Միջին Արեվելքի Հայկական Համայնքները Պարտադրված և Անորոշ Ապագայի Միջեվ», Վերլուծական տեղեկագիր, հ. 7 Երեվանի Պետական Համալսարան, Քաղաքակրթական և մշակութային հետազոտությունների կենտրոն, էջ 217-248: [Hratch Tchilingirian (2015) "Armenian Communities in the Middle East", Analytical Journal, No. 7. Yerevan State University, Centre for Civilisation and Cultural Studies, pp. 217-248.]

London Student - 13 March 2015 - 5:21pm by Colin Cortbus

".... Event organiser Hratch Tchilingirian emphasised that the event was aimed to foster civic culture and reconciliation: "We wanted to emphasize the essential human and moral dimensions of the societal rupture that genocide causes and the process of reconciliation through living culture"...