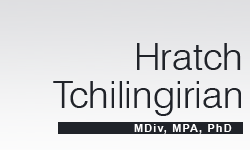 Search
... between the Republic of Armenia and the diaspora, and the future of Armenia's

relations

with its neighbouring countries, as well as its

relations

hip with the

international

political system. (watch)  ...
... scholar/author who has taught courses in Armenian Studies at UCLA. She has lectured widely, presented at

international

symposia, and has contributed several research articles to scholarly journals and ...

Hratch Tchilingirian, Karabakh and Abkhazia. The Struggle for Independence in the post-Soviet South Caucasus. London: Sandringham House, 2003.

Paper: "Seeing the present from the future: Glocal Armenians and the Homeland?", ARPA Institute, 25th Anniversary Conference:Armenians and Armenia in the 21st Century: A Strategy for Long-Term Development.

15 July 2017, Glendale Civic Auditorium, Glendale, California.

NH Hebdo (Paris), N° 66 - 21 septembre 2017, pp. 7-8

Les Arméniens peuvent-ils subsister en tant que nation globale, alors que leur patrie est mal en point ?*

Par Hratch Tchilingirian

Ces dernières années, un nouveau discours sur les « Arméniens globaux » a fait son apparition, avec l'intention de construire une identité arménienne post-génocide dans la diaspora et en Arménie. Cette nouvelle identité se veut être un vecteur permettant de passer de la « mentalité de survie » à la célébration de la vie et du succès. Dans une lettre

... 

international

relations

. These changes have far reaching impact on how countries relate to each other and how risks are managed. In the last few years, the world has seen a continued slow economic growth. ...
... studies. Dr Tchilingirian has lectured

international

ly and is the author of numerous studies and article. He remains deeply engaged in community life and takes active part in civic and professional projects. ...
... focus on cultural identity politics, homeland-disaspora

relations

, sociology of religion, and inter-ethnic conflicts in the Middle East and Eurasia. Dr Tchilingirian has lectured

international

ly and is ...

Սփյուռքի մեծամասնությունը հետաքրքրված չէ Հայաստանով. Հրաչ Չիլինկիրյան

«Սասնա ծռերի» գործողություններից հետո բավականին հետաքրքրական և անցումային շրջան տեղի ունեցավ: Սփյուռքը ավելի քաղաքական «ակնոցով» սկսեց նայել Հայաստանին, և սա իր ձևով խթան հանդիսացավ, որ Սփյուռքի որոշ շրջանակներ, որոնք ակտիվ չէին Հայաստանի քաղաքական կյանքում, սկսեն ուշադրություն


Interview on Armenia-Diaspora relations hosted by Siranush Papyan

Սփյուռքի մեծամասնությունը հետաքրքրված չէ Հայաստանով. Հրաչ Չիլինկիրյան

1in.am TV, 4 June 2017

Lecture: "The 'Other' Citizens – Armenians in Turkey between Isolation and (dis)Integration", American University of Armenia (AUA), Political Science & International Affairs (PSIA).

15 November 2016, AUA, Yerevan

1in.am 27 November 2016

«Սփյուռքի ազգային մտածողության թելադրողը Հայաստանը չէ. համախմբող ազգային կարգախոս է պետք»

Առաջին լրատվական»- ի զրուցակիցն է Օքֆորդի համալսարանի արևելագետության ամբիոնի դասախոս, սփյուռքագետ Հրաչ Չիլինկիրյանը:

CivilNet, 22 December 2016

The Diaspora is Primarily Seven Organizations

Dr. Hratch Tchilingirian, a scholar and lecturer at the Oriental Institute of the University of Oxford - specializing in Eastern Christianity and Armenian Studies - spoke to CivilNet about the current Armenia-Diaspora relations.

Հայաստանի ներքաղաքական հարցերում առավել արդյունավետ կարող է ներգրավվել «հայաստանյան» սփյուռքը

1in.am 12.08.2016

«Առաջին լրատվական»-ը զրուցել է Օքսֆորդի համալսարանի սոցիոլոգիայի ամբիոնի դասախոս, սփյուռքագետ Հրաչ Չիլինկիրյանի հետ:

– Պարոն Չիլինկիրյան, Ձեր կարծիքով՝ հուլիսի 17-ին Երևանի սրտում սկսված իրադարձությունները ի՞նչ էին, ինչի՞ հետևանք էին։

– Հայաստանն իր անկախության 25 տարիների ընթացքում, սկզբում ունենալով դրական զարգացումներ, հետագայում շատ բացասական և ոչ նպաստավոր զարգացումներ ունեցավ ինչպես ներքին կյանքում, այնպես էլ արտաքին աշխարհում։ Ներքին կյանքում հատկանշական են ոչ արդար, ոչ ժողովրդավարական ընտրությունների անցկացումն ու այլ բազում հարցեր։ Եվ այսօր, ինչպես տեսնում ենք, Հայաստանում շարունակվում են այդ բացասական երևույթները։ Տեղի ունեցած իրադարձությունները թերևս այնքան էլ անսպասելի չէին։ Սա նշանակում է, որ 25 տարվա ընթացքում չենք կարողացել կառուցել այնպիսի երկիր, որ այդ անկախության 25-ամյակը հպարտությամբ տոնենք։ Սա բոլորիս համար մեծ ցավ է և մեծ բացասական երևույթ։

Hye Sharzhoom, December 2015 (California State University, Fresno, Armenian Studies Program)


To mark the 100th Anniversary of the Armenian Genocide, the Society for Armenian Studies (SAS) held an international conference, "The Impact of the Armenian Genocide," on Saturday, November 21, 2015, in Denver, Colorado... SAS Vice-President Bedross Der Matossian chaired the first panel on "The Impact on Society," where three participants presented papers: Lerna Ekmekcioglu (Massachusetts Institute of Technology), "When History Became Destiny: Armenians in Post-Genocide Turkey"; Sossie Kasbarian (University of Lancaster, United Kingdom), "The Politics of Memory and Activism: The Armenian Diaspora Facing 2015"; and Hratch Tchilingirian (University of Oxford), "Armenians in Turkey: The Impact of post-Genocide Isolation and (dis)Integration."

Lecture: "Military conflicts, religious extremism and future challenges facing Eastern Christianity in the Middle East today", organised by Politics and International Relations Society.

3 December 2015, Royal Holloway (University of London).

... Royal Institute of

International

Affairs, London. ::/introtext:: ::fulltext:: Chatham House, Russia and Eurasia Programme Invited participant: "Azerbaijani Perspectives on the Nagorno-Karabakh ...
... tanks and

international

organisations. Indeed, many volumes are available today about the various aspects of the former Soviet republics in general and the Caucasus in particular. However, there ...
... by the US and Europe. However, the region is affected and influenced by major

international

, regional and local security issues. There are growing political, military and wider security problems.  ...