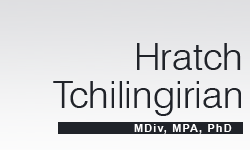 Search
... հատկապես՝ աղբյուրների և ուսումնասիրության խնդիրների քննարկում" 17 November, 2016, 12:30-13.30 (308E PAB), American University of Armenia "Religious Extremism, military

conflict

s and Christian communities ...

Զրույց

Հրաչ

Չիլինգիրյանի

հետ

Մենք ծանոթացել ու զրուցել ենք մեր հայրենակիցներից Հրաչ Չիլինգիրյանի հետ, ով այսօր ապրում և գործում է Մեծ Բրիտանիայում: Նյու-Յորքում, Լոս Անջելեսում, Լոնդոնում ուսանած ու դասախոսող դոկտոր Չիլինգիրյանը օրերս դասախոսություն կարդացել է Արցախի համալսարանում սովորող ուսանողների համար և այդ կապը չափազանց կարևոր է: Մեր հյուրի հետ զրույցը աշխարհաքաղաքական հետաքրքրությունների ծիրում է:

Մշակոյթը ապրելով` մշակոյթը կը «պահուի»...

Future TV, Armenian News, 24.07.2016

(հարցազրոյցի Ա. մասը 7:19 կէտէն կը սկսի)

«Սուրիահայութեան վիճակը աղէտի համազօր է...»

Future TV, Armenian News, 28.07.2016

(հարցազրոյցի Բ. մասը 9:31 կէտէն կը սկսի)

https://www.youtube.com/watch?v=glrg9PD4gQ8




Hratch Tchilingirian (2016) "L'Eglise arménienne pendant la guerre froide : la crise Etchmiadzine-Antelias", NH Hebdo, 9 Juin.

l'Eglise Arménienne, en tant qu'institution religieuse, a été affectée à des fonctions « laïques » ou civiles pour « conduire la nation », alors que le clergé était devenu un agent et un médiateur mandatés par l'Etat entre les dirigeants, les gouvernements et les intérêts politiques. Dans le même temps, la société arménienne, en Arménie comme dans la diaspora, avait traversé un processus de sécularisation du fait d'un rationalisme et d'une modernité émergents, ce qui s'est traduit par le capitalisme, l'industrialisation et l'Etat-Nation. Ces développements historiques ont conduit l'Eglise arménienne à une sécularisation.




Lecture: "Military conflicts, religious extremism and future challenges facing Eastern Christianity in the Middle East today", organised by Politics and International Relations Society.

3 December 2015, Royal Holloway (University of London).

Lecture: "Christian Communities in the midst of extremism, regional military conflicts and wars in the Middle East"

20 October 2015, The Oriental Institute, University of Oxford

Programme

Chatham House, Russia and Eurasia Programme

Invited participant: "Azerbaijani Perspectives on the Nagorno-Karabakh Conflict" with Rovshan Rzayev, Member of Azerbaijani Parliament and Executive Board Member of the Azerbaijani Community of the Nagorno Karabakh Region, and Kavus Abushov, Assistant Professor of Political Science, ADA University, Baku.

29 September 2015, The Royal Institute of International Affairs, London.

... Development & '

Conflict

resolution' literature: papers and proposals generated by NGOs, academics, think tanks and international organisations. Indeed, many volumes are available today about ...
... and solution, among them: unresolved territorial and ethnic

conflict

s (e.g., Karabakh, Abkhazia, Chechnya); international terrorism / radical religious fundamentalism; Corruption and economic disparity; ...
...  This talk on the Nagorno Karabakh

conflict

accompanies Imagined Futures, the first UK solo show by internationally exhibited artist Hrair Sarkissian, and aims to shed further light on issues ...
... 

conflict

s, as well as the escalation of religious fundamentalism in recent years pose serious questions about the future viability of the Armenian communities in the Middle East. These processes are exacerbated ...

""Armenians in 2115" Strategy Seminar at the Calouste Gulbenkian Foundation

The Armenian Communities Department of the Calouste Gulbenkian Foundation hosted a unique two-day seminar for Armenian leaders to discuss future scenarios. The gathering was a high-level forum where forward-looking strategic discussions took place in a private, invitation-only environment. It was held on 13-14 October 2014.

Hratch Tchilingirian made a presentation on the prospects of the Armenian communities in the Middle East, entitled "To Stay or Not to Stay? The Question of the Century for Armenian communities in the Middle East".

See MassisPost

Chatham House, Russia and Eurasia Programme

Invited participant: "The Role of the OSCE Minsk Group in the Nagorny Karabakh Conflict" with Jacques Faure, Co-Chair of the OSCE Minsk Group (2012-2014); the Royal Institute of International Affairs, London, 13 January 2015.

St. Anne's College, University of Oxford.

Middle East Studies, School of Interdisciplinary Area Studies

International Conference: Global Conflict and Conflict Management: Israel/Palestine and Beyond

Paper: "Living with Injustice and Denial: Turkish-Armenian relations on the threshold of the centenary of the Armenian Genocide in the Ottoman Empire"

18-19 May 2014

Conference Programme

... legacy and consequences of the Nagorno-Karabakh

conflict

and difficult relations with Turkey, so its two longest external borders are closed. And then, if you want to pile on the pain, while Armenia has ...
... so Far Away from Peace Hratch Tchilingirian University of Cambridge This February marks the 18th anniversary of the start of the Nagorny Karabagh

conflict

in modern times. I emphasize "modern ...
... out what a pleasure it is to be hearing "some of the success stories" of the Armenian economy, as represented by the seven panel members, instead of the all too common litany of

conflict

s, disasters, and ...