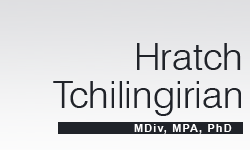 Search
... at least 22,000 Syrian-Armenian refugees who have travelled to the country since Syria's

conflict

erupted in 2011. The Hovhannesian family's journey, or return, has been in the making for over a century, ...
... of religion, and inter-ethnic

conflict

s in the Middle East and Eurasia. The author of numerous studies and publications (www.hratch.info), he has lectured internationally, recently drawing attention to ...
... specializing in Middle Eastern and Armenian Studies, with a particular focus on cultural identity politics, homeland-diaspora relations, sociology of religion, and inter-ethnic

conflict

s in the Middle ...
... to assess the extent of these challenges for the global Armenian identity, one is reminded of similar crisis points over two millennia of

conflict

and conquest, persecution and hardship. At virtually each ...

Paper: "Islamic Response to the Karabakh Conflict" at the 25th anniversary conference of "Le Caucase entre les Empires, XVIe-XXIe siècle", Journée d'étude en hommage à Claire Mouradian. Organisée par le CERCEC (CNRS/EHESS), École des Hautes Études en Sciences Sociales, Paris, 29 novembre 2018.

... 2003. This book presents a discussion of inter-ethnic

conflict

s in post-Soviet South Caucasus and analyses of the struggle for independence in Nagorno Karabakh and Abkhazia, two failed Soviet autonomies, ...

ԿԱՐԵՒՈՐ ՄՏԱՀՈԳՈՒԹԻՒՆՆԵՐ

Սփիւռքահայ գիտնականը կը մեկնաբանէ Մերձաւոր Արեւելքի քիրստոնէութեան առջեւ ծառացած երկու հիմնական խնդիրները՝ անվտանգութիւն եւ գաղթականութիւն...

(աւելին)

... focus on cultural identity politics, homeland-disaspora relations, sociology of religion, and inter-ethnic

conflict

s in the Middle East and Eurasia. Dr Tchilingirian has lectured internationally and is ...

Լecture: "Religious Extremism, military conflicts and Christian communities in the Middle East Today", American University of Armenia (AUA), College of Humanities & Social Sciences (CHSS).

17 November 2016, AUA, Yerevan.

... հատկապես՝ աղբյուրների և ուսումնասիրության խնդիրների քննարկում" 17 November, 2016, 12:30-13.30 (308E PAB), American University of Armenia "Religious Extremism, military

conflict

s and Christian communities ...

Զրույց

Հրաչ

Չիլինգիրյանի

հետ

Մենք ծանոթացել ու զրուցել ենք մեր հայրենակիցներից Հրաչ Չիլինգիրյանի հետ, ով այսօր ապրում և գործում է Մեծ Բրիտանիայում: Նյու-Յորքում, Լոս Անջելեսում, Լոնդոնում ուսանած ու դասախոսող դոկտոր Չիլինգիրյանը օրերս դասախոսություն կարդացել է Արցախի համալսարանում սովորող ուսանողների համար և այդ կապը չափազանց կարևոր է: Մեր հյուրի հետ զրույցը աշխարհաքաղաքական հետաքրքրությունների ծիրում է:

Մշակոյթը ապրելով` մշակոյթը կը «պահուի»...

Future TV, Armenian News, 24.07.2016

(հարցազրոյցի Ա. մասը 7:19 կէտէն կը սկսի)

«Սուրիահայութեան վիճակը աղէտի համազօր է...»

Future TV, Armenian News, 28.07.2016

(հարցազրոյցի Բ. մասը 9:31 կէտէն կը սկսի)

https://www.youtube.com/watch?v=glrg9PD4gQ8




Hratch Tchilingirian (2016) "L'Eglise arménienne pendant la guerre froide : la crise Etchmiadzine-Antelias", NH Hebdo, 9 Juin.

l'Eglise Arménienne, en tant qu'institution religieuse, a été affectée à des fonctions « laïques » ou civiles pour « conduire la nation », alors que le clergé était devenu un agent et un médiateur mandatés par l'Etat entre les dirigeants, les gouvernements et les intérêts politiques. Dans le même temps, la société arménienne, en Arménie comme dans la diaspora, avait traversé un processus de sécularisation du fait d'un rationalisme et d'une modernité émergents, ce qui s'est traduit par le capitalisme, l'industrialisation et l'Etat-Nation. Ces développements historiques ont conduit l'Eglise arménienne à une sécularisation.




Lecture: "Military conflicts, religious extremism and future challenges facing Eastern Christianity in the Middle East today", organised by Politics and International Relations Society.

3 December 2015, Royal Holloway (University of London).

Lecture: "Christian Communities in the midst of extremism, regional military conflicts and wars in the Middle East"

20 October 2015, The Oriental Institute, University of Oxford

Programme

Chatham House, Russia and Eurasia Programme

Invited participant: "Azerbaijani Perspectives on the Nagorno-Karabakh Conflict" with Rovshan Rzayev, Member of Azerbaijani Parliament and Executive Board Member of the Azerbaijani Community of the Nagorno Karabakh Region, and Kavus Abushov, Assistant Professor of Political Science, ADA University, Baku.

29 September 2015, The Royal Institute of International Affairs, London.

... and magazine articles, descriptive and analytical reports, news material; c) Transition, Development & '

Conflict

resolution' literature: papers and proposals generated by NGOs, academics, think ...
... there are a number of critical security issues that need continued attention and solution, among them: unresolved territorial and ethnic

conflict

s (e.g., Karabakh, Abkhazia, Chechnya); international terrorism ...
...  This talk on the Nagorno Karabakh

conflict

accompanies Imagined Futures, the first UK solo show by internationally exhibited artist Hrair Sarkissian, and aims to shed further light on issues ...