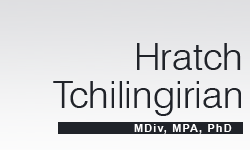 Search
Paper: "Islamic Response to the Karabakh Conflict" at the 25th anniversary conference of "Le Caucase entre les Empires, XVIe-XXIe siècle", Journée d'étude en hommage à Claire Mouradian. Organisée par le CERCEC (CNRS/EHESS), École des Hautes Études en Sciences Sociales, Paris, 29 novembre 2018.

Hratch Tchilingirian (2018) "Armenia and Karabkah" in Christianity in North Africa and West Asia, edited by Kenneth R. Ross, Mariz Tadros, and Todd M. Johnson. Edinburgh Companions to Global Christianity 2. Edinburgh: Edinburgh University Press, 2018: 190-201.

Hratch Tchilingirian, Karabakh and Abkhazia. The Struggle for Independence in the post-Soviet South Caucasus. London: Sandringham House, 2003.

Զրույց

Հրաչ

Չիլինգիրյանի

հետ

Մենք ծանոթացել ու զրուցել ենք մեր հայրենակիցներից Հրաչ Չիլինգիրյանի հետ, ով այսօր ապրում և գործում է Մեծ Բրիտանիայում: Նյու-Յորքում, Լոս Անջելեսում, Լոնդոնում ուսանած ու դասախոսող դոկտոր Չիլինգիրյանը օրերս դասախոսություն կարդացել է Արցախի համալսարանում սովորող ուսանողների համար և այդ կապը չափազանց կարևոր է: Մեր հյուրի հետ զրույցը աշխարհաքաղաքական հետաքրքրությունների ծիրում է:

Chatham House, Russia and Eurasia Programme

Invited participant: "Azerbaijani Perspectives on the Nagorno-Karabakh Conflict" with Rovshan Rzayev, Member of Azerbaijani Parliament and Executive Board Member of the Azerbaijani Community of the Nagorno Karabakh Region, and Kavus Abushov, Assistant Professor of Political Science, ADA University, Baku.

29 September 2015, The Royal Institute of International Affairs, London.

... there are a number of critical security issues that need continued attention and solution, among them: unresolved territorial and ethnic conflicts (e.g.,

Karabakh

, Abkhazia, Chechnya); international terrorism ...
...  This talk on the Nagorno

Karabakh

conflict accompanies Imagined Futures, the first UK solo show by internationally exhibited artist Hrair Sarkissian, and aims to shed further light on issues ...

Chatham House, Russia and Eurasia Programme

Invited participant: "The Role of the OSCE Minsk Group in the Nagorny Karabakh Conflict" with Jacques Faure, Co-Chair of the OSCE Minsk Group (2012-2014); the Royal Institute of International Affairs, London, 13 January 2015.

... of Dr. Jack Kevorkian, or "Doctor Death", as he became known in the American media. Window Vol. IV, No. 1, 1994 Theology of War:

Karabakh

— The main focus of this issue is the religious revival ...
... geopolitical history, characterised on one side by Ottoman Turkey's genocide of the Armenians during World War I, and bitter wrangling with Azerbaijan over the Nagorno-

Karabakh

territory on the other.  ...
... Turkey's support and to position itself as fighting a "common enemy" in

Karabakh

. Turkish nationalists, in turn, seek to portray the pkk as a non-Muslim and even anti-Muslim entity, appealing to religious ...
... MPs, diplomats, academic researchers, and government and NGO representatives, attended the publication launch of "The limits of leadership: elites and societies in the Nagorny

Karabakh

peace process" at ...

Djaragayt - The Beam - TV programme

Broadcast on 1 December 2012 on First Channel (Armenia), H1

Host Tsvetana Paskaleva presents a profile of Hratch Tchilingirian's scholarly and community activities in the Diaspora and interviews him on issues of preservation of identity and culture in the Diaspora and on Armenia-Diaspora relations. Co-hosted by Khachatur Gasparyan. Programme Director: Karine Hakobyan

Armenian Reporter International [Paramus] 29 Dec 2001: 19.

Hratch Tchilingirian Lectures on the Armenian-Azerbaijani Conflict at Haigazian University

Hratch Tchilingirian, a Ph.D. candidate in sociology at the London School of Economics and Political Science, gave a public lecture about the Armenian-Azerbaijani conflict in the Haigazian University auditorium. The lecture, organized by the university's Department of American Studies, was held on Tuesday, December 11, 2001.

1988 (January-December) Radio Free Europe - Radio Liberty REPORTS on Karabakh, Soviet Armenia and Soviet Azerbaijan, by Elizabeth Fuller and others.

[78 pages, see PDF version]

Azeri President Heidar Aliyev addresses parliament on Karabakhk

23 February, 2001, Azerbaijani TV, Channel One.

[see PDF version]

Azeri and Armenian Sociologists Find Potential for Peacebuilding

Tbilisi, Georgia, July 28,m 2004

www.american.edu/cgp/mpaa/mpindex.html

A joint study by Armenian and Azeri sociologists shows that the people in both countries would support more concerted efforts by their governments to normalize relations and move toward settlement of territorial disputes. The study was designed to determine the possibilities for reconciliation among the people of the two countries.

... Church in Bourj Hamoud [Lebanon] should not be the same as it is in Manhattan or in Yerevan or in

Karabakh

. I can say the same thing for the Presbyterian church and for all other churches. As I said, the ...
...  This book is the first volume of two studies by Bishop Makar Barkhudariants about

Karabakh

, which provides valuable historical and ethnographic information about the region. Barkhudariants ...