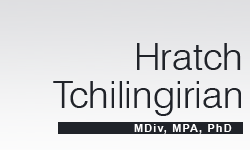 Search
Peroomian, Tchilingirian to Speak at ARF's First Republic Conference

Glendale (Asbarez, March 7, 2018)—To mark and celebrate the 100th anniversary of the founding of the first Republic of Armenia, the Armenian Revolutionary Federation-Western United States, in collaboration with the California State University, Northridge Armenian Studies Program, has organized a two-day academic conference, "Armenian Statehood Reborn: Achievements and Reflections."… Two of the acclaimed speakers at the conference will be Dr. Hratch Tchilingirian and Dr. Rubina Peroomian...

Il catholicosato di Aghuank (o Gandzasar)

Hratch Tchilingirian (a Storia religiosa dell'Armenia, 2010)

Nel IV secolo, poco dopo la conversione dell'Armenia al cristianesimo, il Regno di Albania (da non confondersi con l'Albania dei Balcani) che comprendeva le province di Artsakh (la futura Karabagh) e Utik, si convertì al cristianesimo grazie agli sforzi di Gregorio l'Illuminatore, evangelizzatore dell'Armenia. Grigoris, il nipote di san Gregorio, fu nominato capo della Chiesa albanese intorno al 330 d.C. Fu martirizzato nel 338 mentre evangelizzava la regione a nordest del paese, nei pressi di Derbend (l'attuale Daghestan). Il suo corpo fu traslato in Artsakh e sepolto in una

Lecture: "Christian Communities in the midst of extremism, regional military conflicts and wars in the Middle East"

20 October 2015, The Oriental Institute, University of Oxford

Programme

Chatham House, Russia and Eurasia Programme

Invited participant: "Azerbaijani Perspectives on the Nagorno-Karabakh Conflict" with Rovshan Rzayev, Member of Azerbaijani Parliament and Executive Board Member of the Azerbaijani Community of the Nagorno Karabakh Region, and Kavus Abushov, Assistant Professor of Political Science, ADA University, Baku.

29 September 2015, The Royal Institute of International Affairs, London.

Constructing Reality: scholarship and policy on post-independence Caucasus

Hratch Tchilingirian | 12 November 2013

This observation of an Abkhaz social worker captures the general frustration of "outsiders" with the Caucasus. I would add that the "frustration" is not only or necessarily on the empirical level, but about the changing shades of the "picture" formulated about the region by outsiders.

... prominence, especially due to large natural and energy resources. For instance, there is growing commercial and geostrategic interest in Central Asia and the Caucasus (the

Caspian

basin), especially ...

Հրաչ Չիլինգիրյան (2015) «Միջին Արեվելքի Հայկական Համայնքները Պարտադրված և Անորոշ Ապագայի Միջեվ», Վերլուծական տեղեկագիր, հ. 7 Երեվանի Պետական Համալսարան, Քաղաքակրթական և մշակութային հետազոտությունների կենտրոն, էջ 217-248: [Hratch Tchilingirian (2015) "Armenian Communities in the Middle East", Analytical Journal, No. 7. Yerevan State University, Centre for Civilisation and Cultural Studies, pp. 217-248.]

The D Group headquarters, London - 5 September 2013

Guest of Honour Speaker on "The Future Prospects for the Caucasus and the Wider Caspian Region"

Hosted by Frances Edmonds

The D Group is a business development network headquartered in London and active in 23 locations around the world. The Group delivers extensive insights, connections and business opportunities to the 250 leading organisations that have formed its membership.

An exercise in disinformation: linking Kurds to NKR

Armenian Reporter [Paramus, NJ] 02 Aug 2008: A4-A5.

Yelena Osipova & Emil Sanamyan

WASHINGTON - Turkish and Azerbaijani officials have frequently sought to link Armenians to the Kurdish resistance in Turkey, typically referred to as the Kurdistan Workers' Party (pkk). But they have provided little to no evidence to substantiate such linkages. These allegations made a comeback between last October and earlier this year at a fairly high level and with all the hallmarks of an organized disinformation campaign. This analysis seeks to deconstruct the chronology of this effort aimed against Armenia.

"Pursuit of 'terrorists' or the presence of terrorists in a given territory has been used as pretext by states around the world for military operations," Hratch Tchilingirian of the University of Cambridge told the Armenian Reporter via e-mail.

... the larger Caucasus and

Caspian

region

in last 18 years. Yet, many questions remain unanswered, more challenges are ahead and more uncertainties in the path of peaceful resolution of the conflict. As ...
... of energy resources like oil and natural gas from the basin of the

Caspian

Sea to Western markets. This is highlighted by the international struggle to lay control over the existing network of pipelines ...

Oxford Armenian Studies, University of Oxford

Lecture seminar: "Armenian Schools in the Middle East: The Case of Lebanon"

An overview of Armenian schools in the Middle East with a particular focus on the schools in Lebanon, one of the largest and significant communities in the region. The seminar will highlight some of the internal and external problems facing the schools and "Armenian education" in the Middle East in general.

30 October 2012

Oriental Institute, Lecture Room 1

Programme

... Issues in the

Caspian

Region

" St. John's College, University of Cambridge 26-28 September 2004 ::/introtext:: ::fulltext::Science, Society and Security: Science and society in the face of new ...

Patmutyun Aghvanits [History of Aghvank (Caucasian Albania)]

by Bishop Makar Barkhutaryan

Vagharshapat, 1902

[in Armenian, see entire book in PDF version]




This book is the first volume of two studies by Bishop Makar Barkhudariants about Karabakh, which provides valuable historical and ethnographic information about the region. Barkhudariants lived in the 19th century and was originally from Karabakh. He writes about his extensive travels in the regions of historical Aghvank and Artsakh, providing detailed description of the people, their customs, rituals, monuments of historical value , etc. The second volume of his work, the Land of Aghvank and its Neighbours: Artsakh was republished in 1999 by Vem in Yerevan.




XVII Economic Forum, Krynica Zdrój, Poland

Invited speaker

"The Black Sea Region Dimension to European Security and New Possibilities of Conflict Regulation"

5-7 September 2007

Economic Forum, Krynica Zdrój

Poland




Foreign and Commonwealth Office, UK Government

Invited speaker

FCO Seminar: South Caucasus and Regional Issues

30 October 2009

FCO Conference, London




London School of Economics

Speaker

"Assistance or Development? A Question for the Diaspora"

Armenian Development Forum

London School of Economics.

19 March 2010

Hong Kong Theatre, Clement House

Oxford University, 9 May 2009

Conference on "Turkey, Azerbaijan and the Future of European Energy Security"

organised by Oxford University Turkish Society, Oxford Azerbaijan Society and LINKS

Paper: "The Impact of Domestic and Regional politics on the energy policies of Azerbaijan and Turkey"

Conference programme

Aztag Daily (Beirut) 14 August 2004

The Challenges Facing the Armenian Church. An Interview with Hratch Tchilingirian

by Khatchig Mouradian

"The Armenian Church hides, under its each and every stone, a secret path ascending to the heavens", wrote the famous Armenian poet, Vahan Tekeyan. Yet, the Armenian Church is more than a religious institution that has acted as a "mediator" between Armenians and their God. Having survived the shifting tides of time for more than seventeen centuries, this "unique organization", as Professor Hratch Tchilingirian calls it in this interview, has served its people as much as, if not more than, it has served God. Today, in the age of globalization, secularization and false crusades, the Armenians - despite their constant boasting about having the oldest Christian state in the world - are also following this global trend, by gradually distancing themselves from established religious institutions and, at times, looking for spiritual answers elsewhere.